How does one start off a post on the Nissans of the Tokyo Auto Salon? Or rather, how does one start off a post on the GTRs of the Auto Salon? No trip to Japan would ever be complete for an auto otaku until the first sighting of a GTR. It doesn't matter if it was an R32,33,34 or 35, the first sighting of these mythical Godzillas roaming around on their home turf is enough to send electricity up the spines of those enthusiast. And at the auto salon, there was no stortage of Godzilla sightings to keep us JDM-fans happy.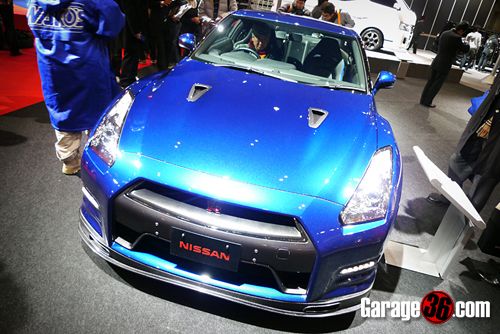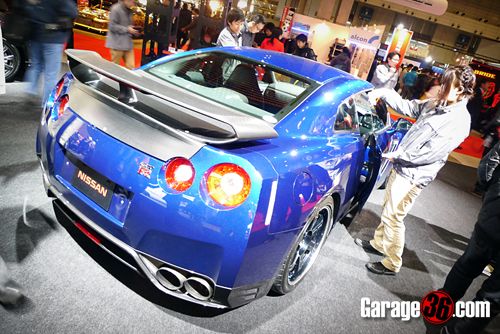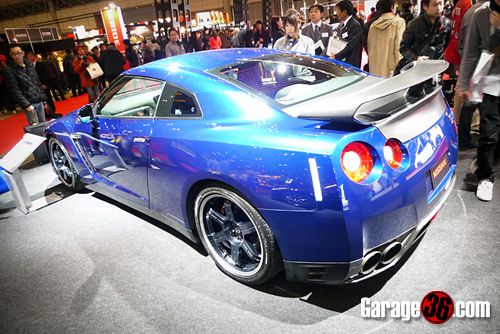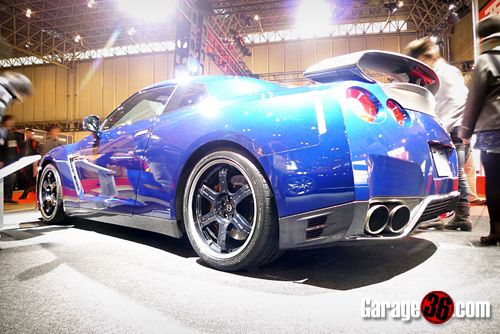 Nissan brought out their 2012 GTR Black Edition and if you wanted, you could hop inside.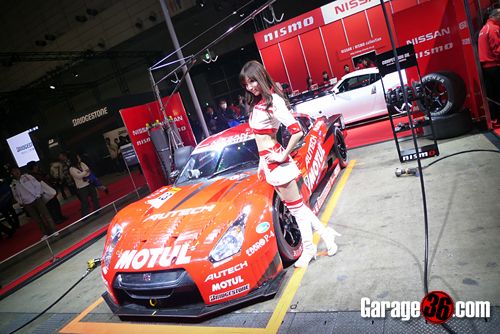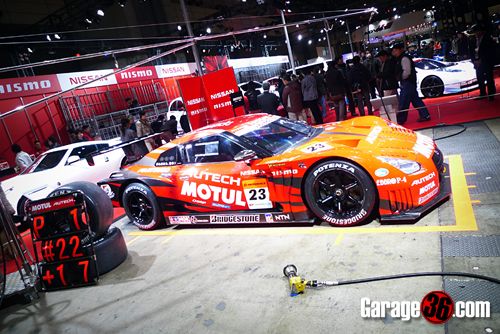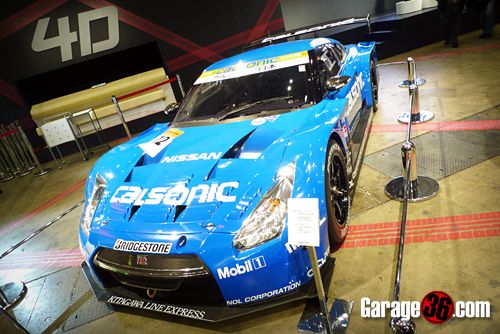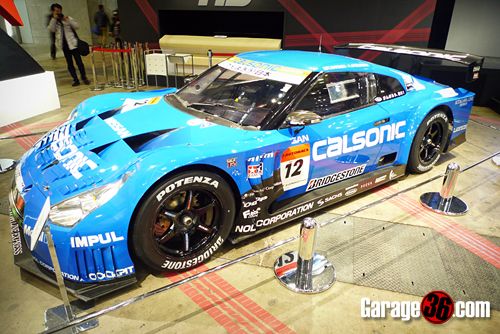 Flanking the Black Edition were a pair of JGTC monsters.
Advan also displayed their JGTC competitor.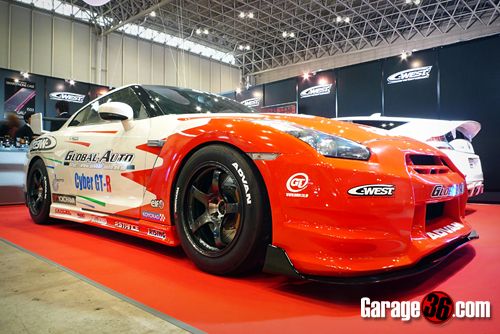 With the Cyber EVO due for retirement, development of it's replacement, the Cyber GTR is well under way. Can't mistake the paintwork for anything else.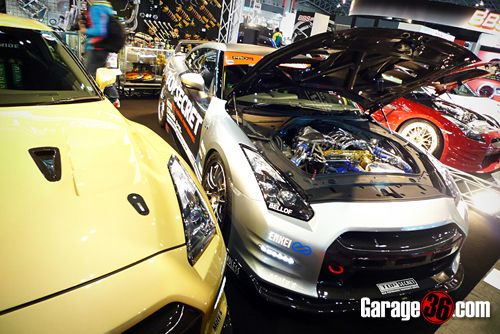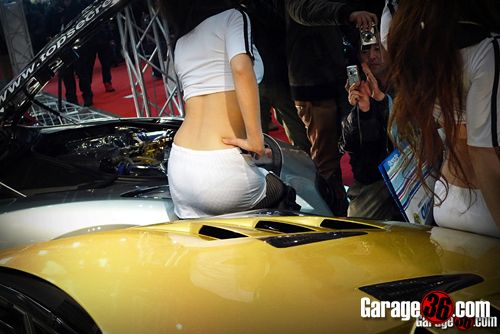 No strangers to the world of GTR tuning, Top Secret brought out this durty duo.
That man in the red jacket is Mr Smokey himself! (He seemed camera shy)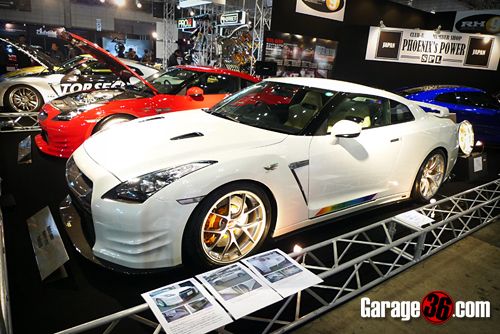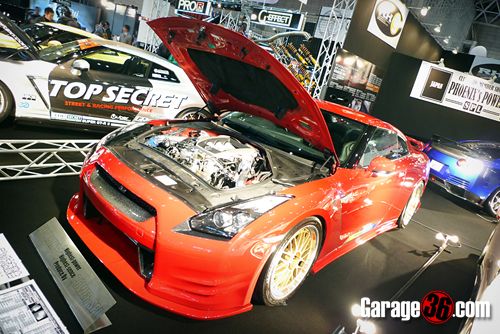 Phoenix Power's GTRs with one wearing the uber light and uber expensive BBS FIs.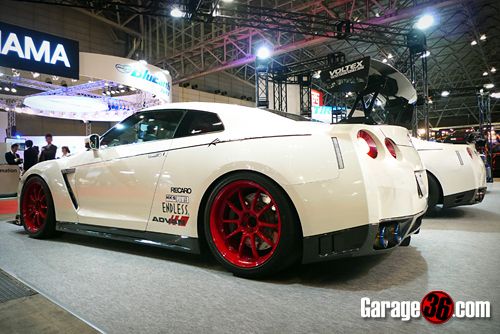 HKS Kansai representing.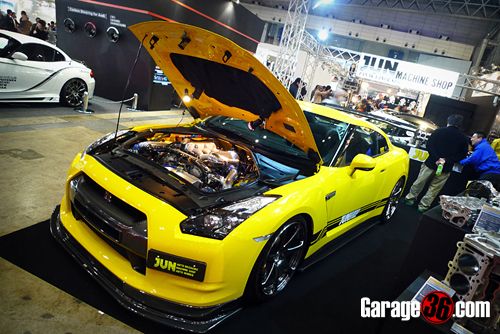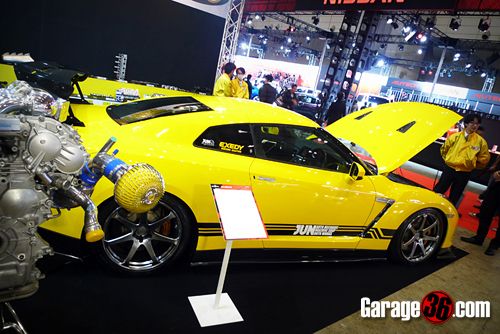 Can't mistake that yellow for anything other then a JUN car.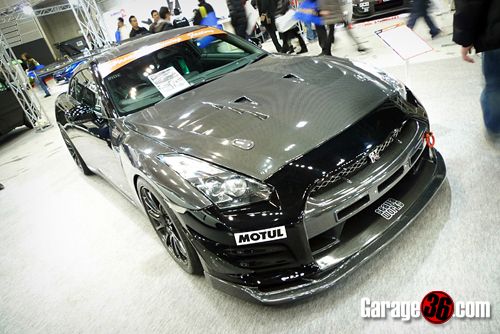 HTF's massive winged GTR.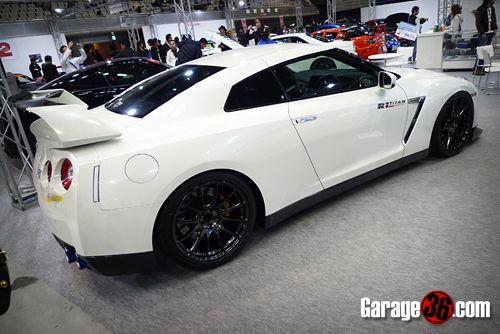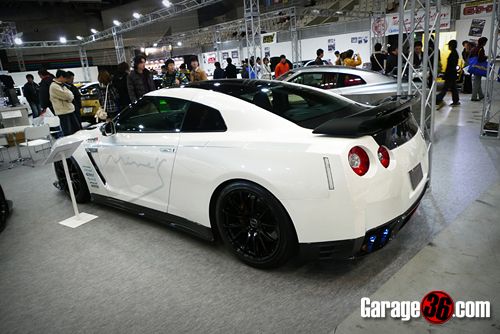 Power House Amuse's GTR sat next to Mine's car.
Side by side, which would you pick? I'd go with a Mine's.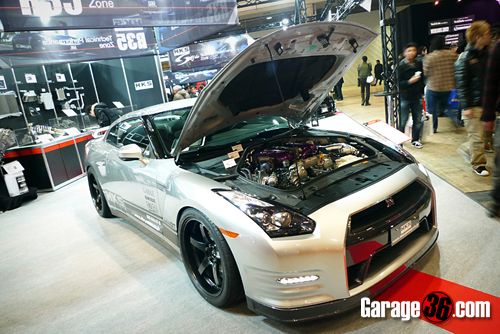 HKS was back and showing off some new engine ware for the R35.
Street Special Garage Yawata's cars.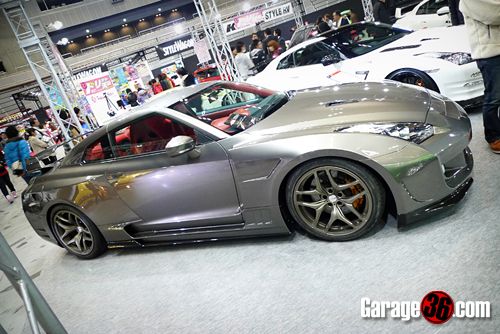 No mistaking these Ben-Sopra kitted GTRs for anything else. They looked awesome.
That awesomeness gets kicked up another notch once that front clamshell opens up.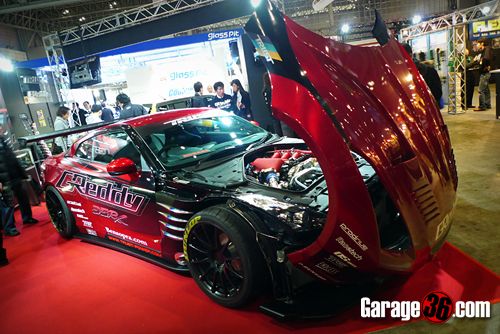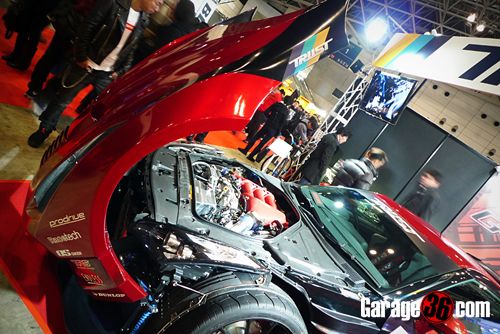 Badass.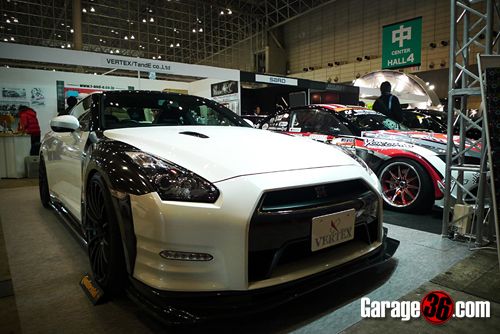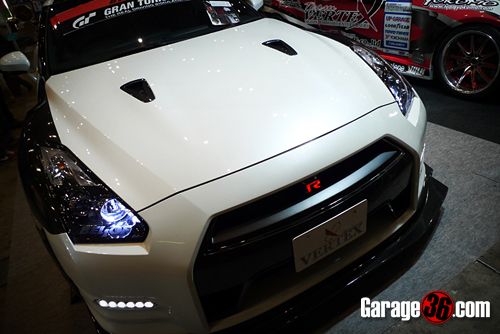 Vertex's GTR emblem had a nice glow when lit up. Simple but effective detail.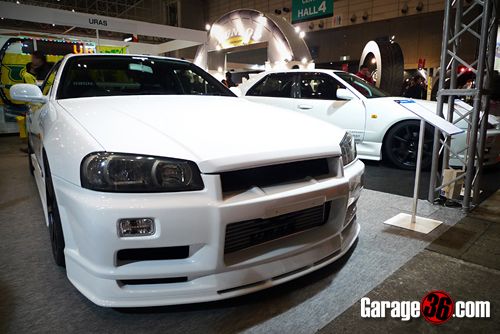 With the R35s covered, lets move on to the legendary R34s.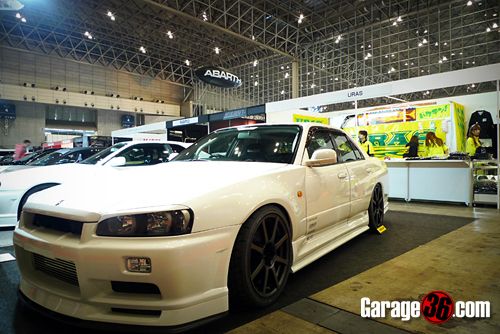 These URAS R34s might not be GTRs, but they still pack a mighty RB26 sideways punch!
I love the down-facing exhaust pipe.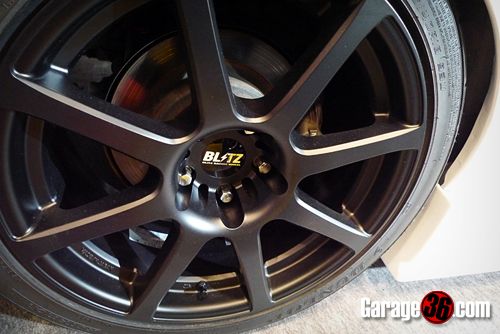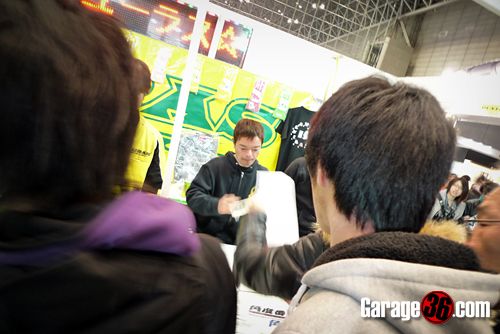 Ken Nomura even came by the booth a few times to help out and to sign autographs!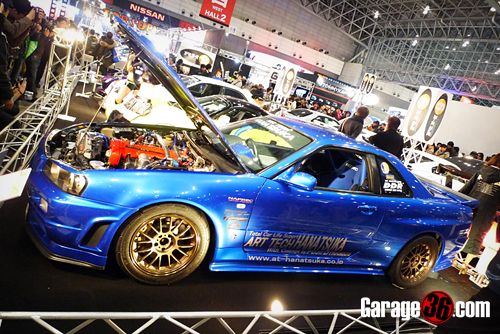 Art Tech Hanatsuka's R34.
Cockpit's R34.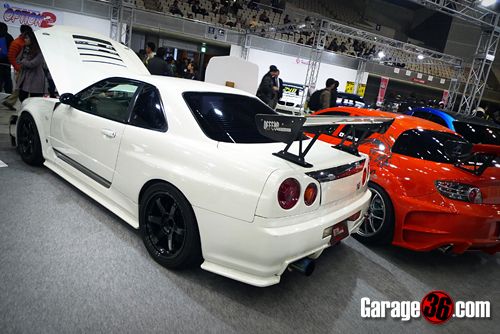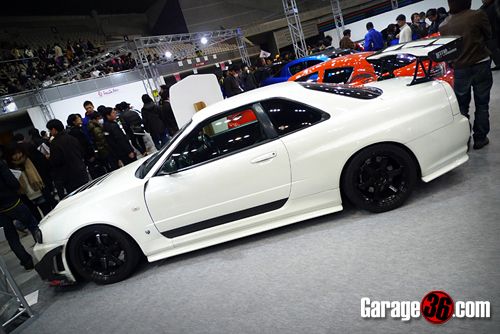 It doesn't get cleaner then this San-Yon from Defend Racing Service.
Not all sedan R34s are from URAs, here's one from MSY Garage.
I'd reckon with a such a huge blower, this R32 from Street Special Garage Yawata is one fast machine.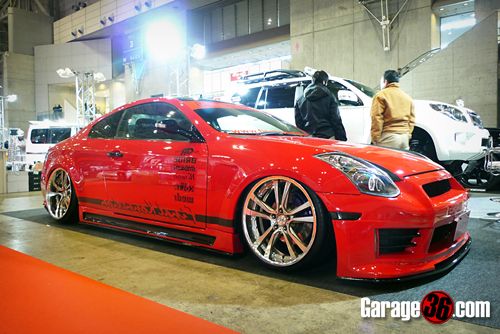 Not to be forgotten, although not a GTR, this G35 from Final Konnexion hit all the right buttons.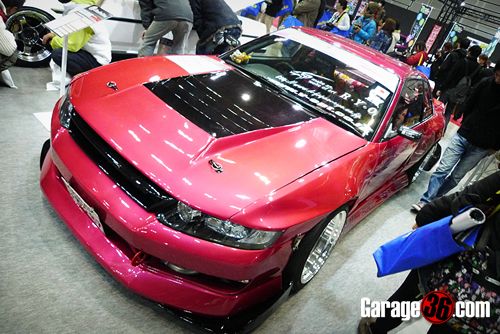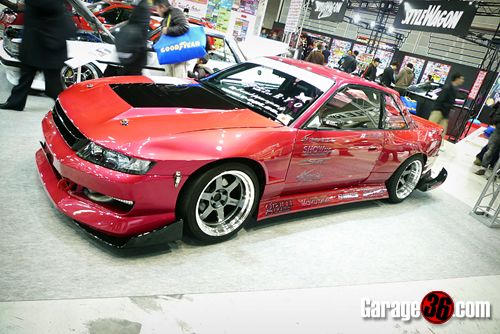 Now onto the S-Chassis cars, this R.Y.O S13 with an Odyssey front end was probably one of the best looking Silvias on the show floor. Pure Pink Sex.
An oddity to some, but i thought it was rather interesting, a BMW E46 fronted S15.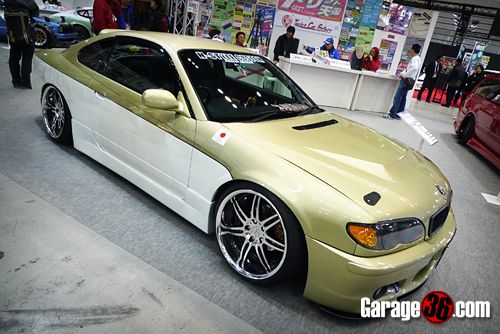 So, do you call it a BM-Silvia or a 46-Via?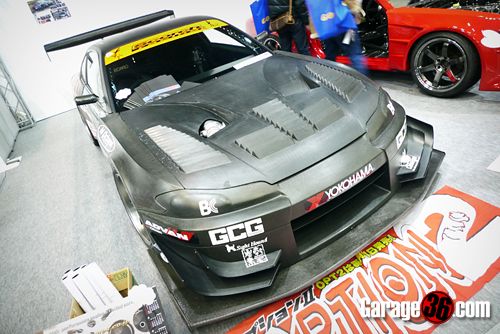 Scorch Racing's Time Attack weapon.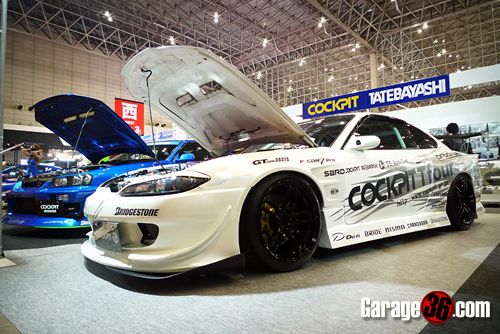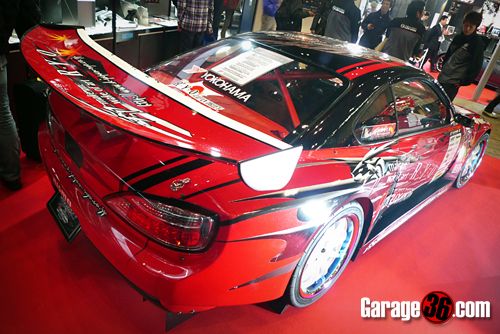 Plenty of dori-dori-specced Silvias, from street tunes to full-on D1 drift monsters.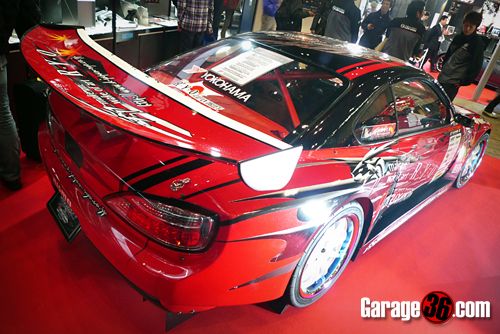 This S15 looked like it was in the midst of a serious build.
Not to be missed were the Fairladies of the show. This clean 370z courtesy of Nissan's tuning division, Nismo.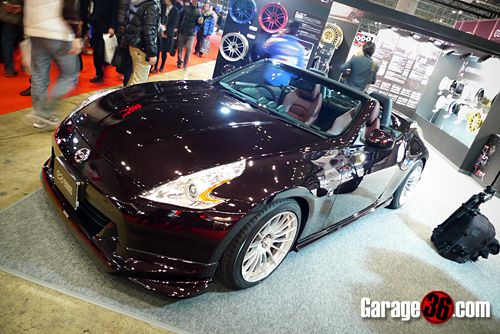 Enkei brought out a topless Fairlady. (Note to Enkei, a matching topless image-girl would have been sweet though)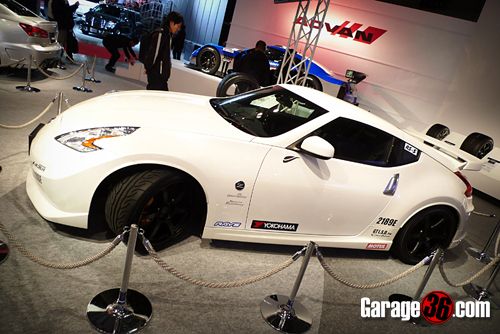 A lovely 370Z at Advan's booth.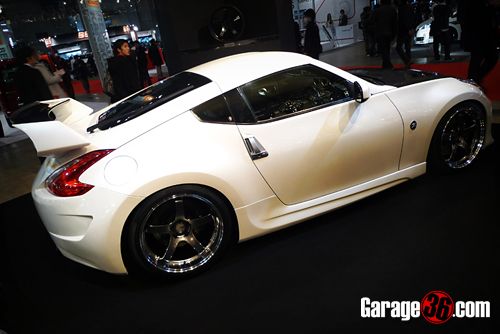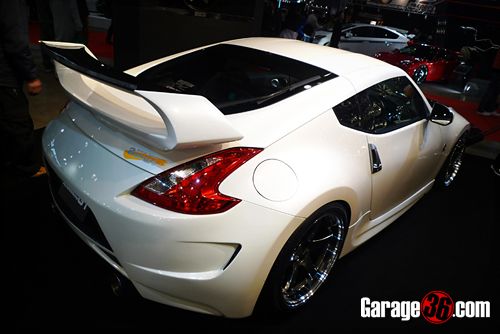 Power House Amuse's 370Z looked great.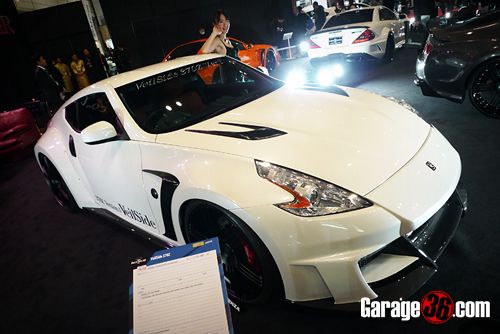 Veilside's Fairlady had some serious scoops and vents all around.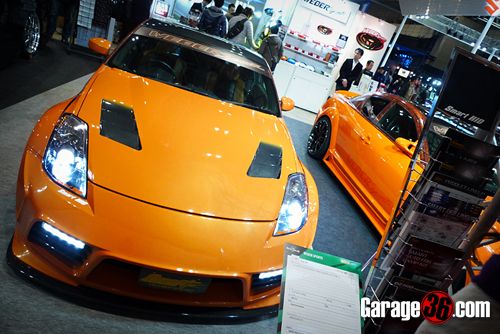 Weber Sports's 350 showing some interesting details on the pillars.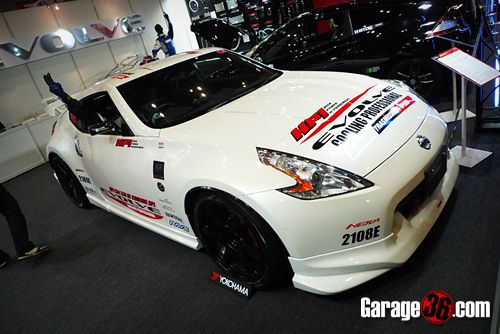 Evolve's 370Z.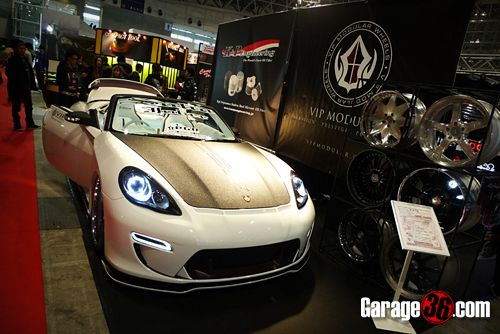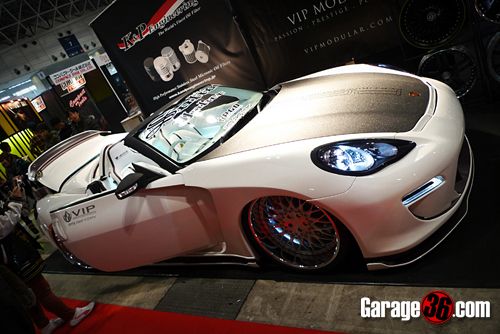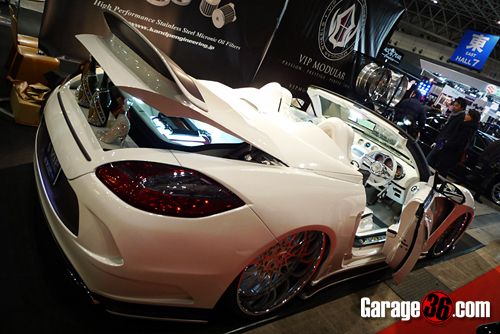 Just in case you were wondering, no that's not a Porsche, it is in fact a Fairlady underneath all that custom bodywork.
Check out that interesting textured paint on the bonnet.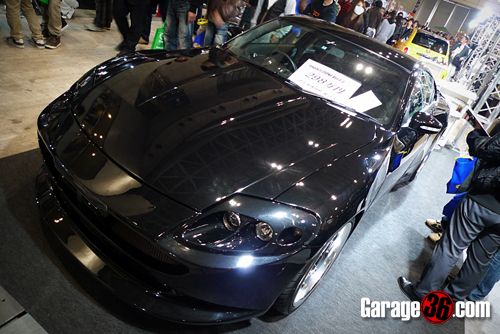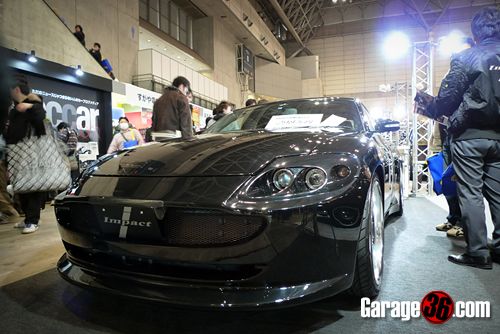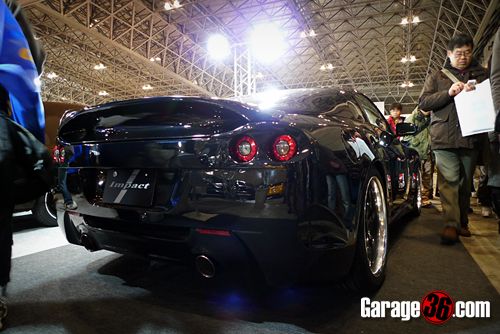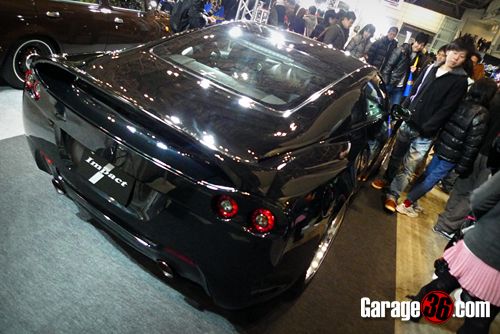 Another custom body on a... you guessed it, Fairlady.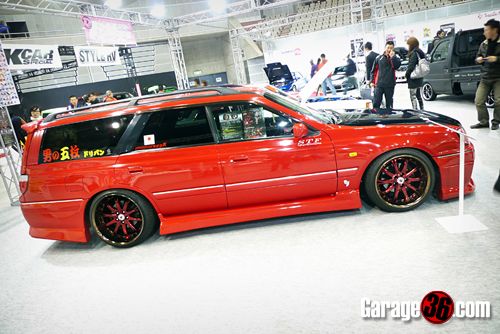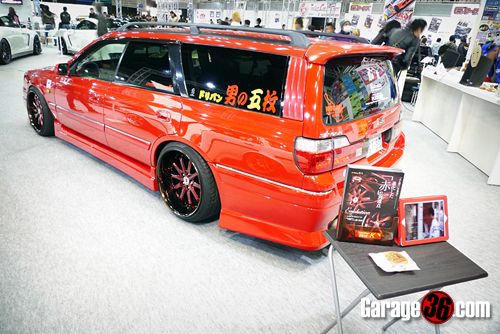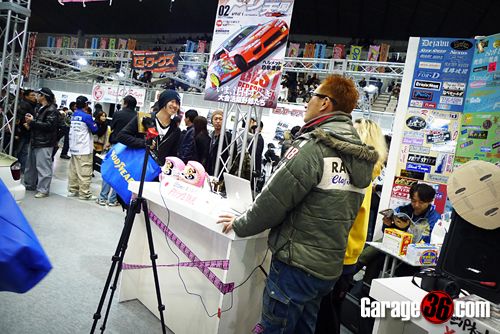 I've always had a soft spot for the Stagea, and this wagon sitting inside Drift Tengoku's area had some interesting bits around it. Like that Drift Tengoku pancake!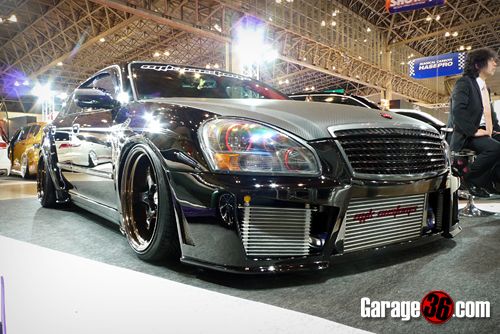 A number of Infinitis stole the VIP thunder from the traditional Celsiors and Aristos.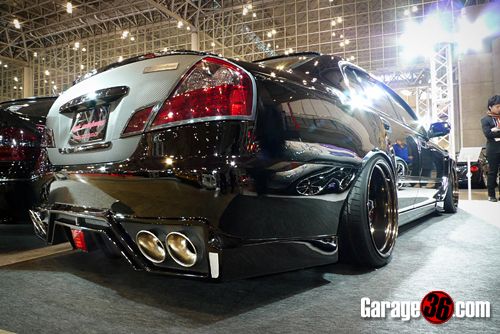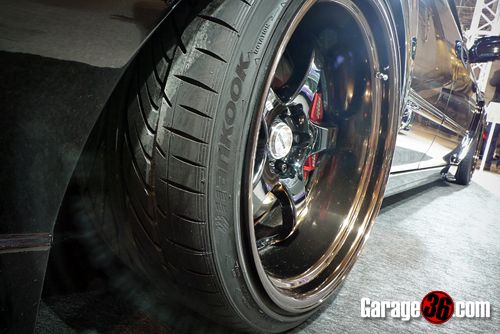 MJK Customs' Q45 (Or Nissan Cima back in JDM land) was hot hot hot! Rocking some phat Work Meisters and slammed all the way down with VIP and racing sports styling all mixed together in perfect harmony.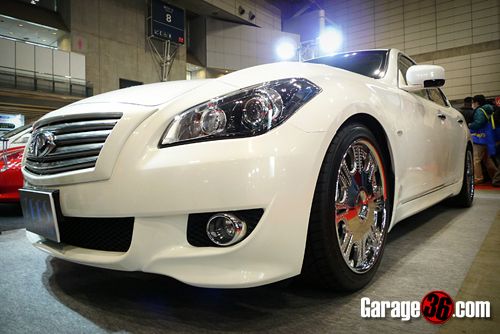 A little bit less extreme, we have another Q45 from ZEES.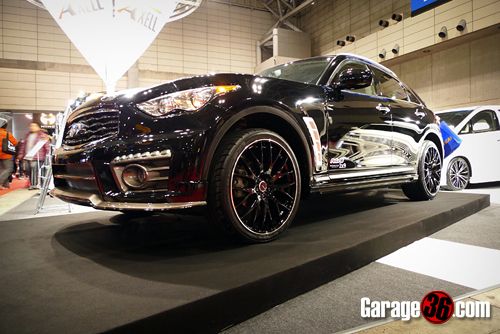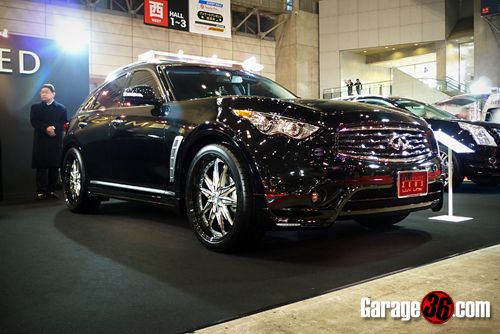 The FX looked like a pretty good platform for some VIP styling.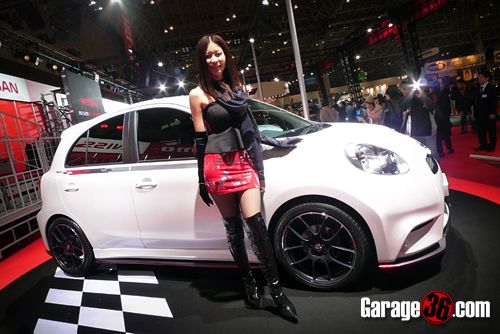 If we bring our pace down a little now, here are the rest of the Nissans spotted at the show.
I much preferred the styling of the previous March but a Nismo kit sure changes things quite abit.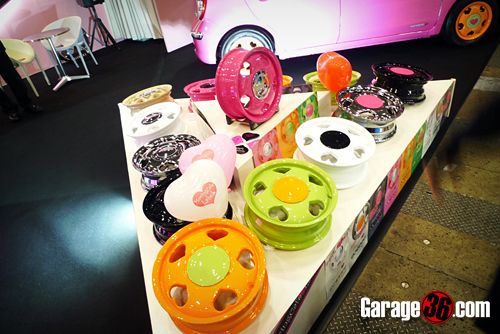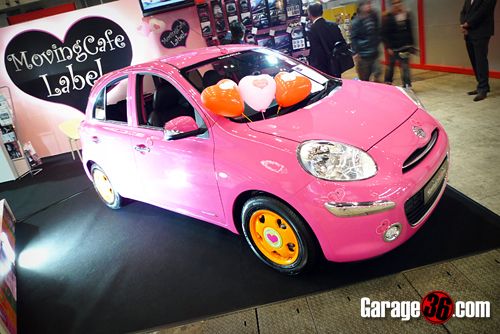 Here's how it looks in "girlie" form.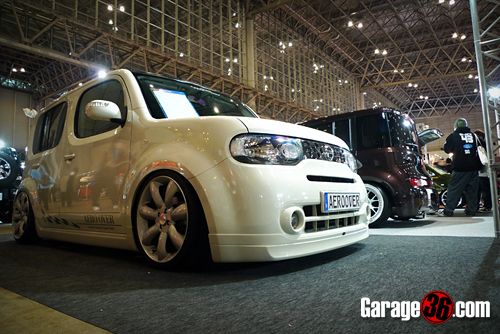 A pair of dressed up Cubes.
I actually like the look of the Juke. Here is Impul's take on the little SUV shaped car.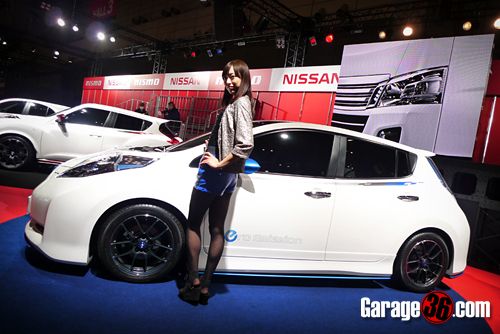 To finish things off, Nissan showcasing their "green" side with a couple of Leafs. Hope you enjoyed this post on the Nissans of the 2012 Auto Salon.
Read more:
Tokyo Auto Salon 2012: The Girls! Part 1!
Tokyo Auto Salon 2012: The BMWs
Tokyo Auto Salon 2012: Audi & VW
Tokyo Auto Salon 2012: Volvos
Tokyo Auto Salon 2012: Mercedes-Benz
Tokyo Auto Salon 2012: Porsches
Tokyo Auto Salon 2012: MINIs and an Evoque
Tokyo Auto Salon 2012: The Italians
Tokyo Auto Salon 2012: British Marques
Tokyo Auto Salon 2012: The Carpark
Tokyo Auto Salon 2012: Fatlace
Tokyo Auto Salon 2012: Rotaries and Mazdas
Tokyo Auto Salon 2012: Toyota Hachiroku
Tokyo Auto Salon 2012: Subaru BRZ
Tokyo Auto Salon 2012: Old School Cool "The Classics"
Tokyo Auto Salon 2012: Honda
Tokyo Auto Salon 2012: Subarus & Mitsubishis
Tokyo Auto Salon 2012: GTRs & Nissans
Tokyo Auto Salon 2012: Daihatsu & Suzuki
Tokyo 2012 Day 1
Tokyo 2012 Day 2 - Part 1: Sushi-Dai & Ginza
Tokyo 2012 Day 2 - Part 2: Toyota Megaweb
Tokyo 2012 Day 3 - Tokyo Disneysea!
Tokyo 2012 Day 5 - Asakusa & Harajuku
Tokyo 2012 day 7 - Akihabara
Tokyo 2012 day 8 - Hakone!
Tokyo 2012 day 9 - Last day in Tokyo