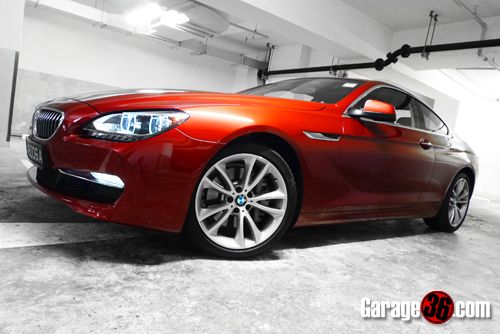 When BMW launched the new 6 series, they did so with the convertible. A peculiar move since Coupes were traditionally showcased before the drop-tops. Nonetheless, such an arrangement meant i had the chance to sample the more powerful, more flamboyant and more expensive V8 powered 650i earlier. I had some fond memories of that car, but i did recall mentioning that if fun was all you were after in a large luxury cabriolet, a smaller engined 640i would have probably been just as good. Now, with the keys to the "base model" 6 Series into my pocket, will i have to eat my words?
Granted this is not the convertible version of the 6, but just look at it. It sure is pretty. Without the canvas roof, the design just flows elegantly. A huge departure from the 2nd generation of 6's, which wasn't exactly the most beautiful of shapes. This time round though, BMW did a good job smoothing everything out and the results speak for themselves as the light catches each crease and cut-line, giving the F13 a slimmer profile under centain lighting conditons. Think of the bodywork as one of those "miracle dresses" girls like to talk about.
Especially gorgeous in this delicious bordeux shade.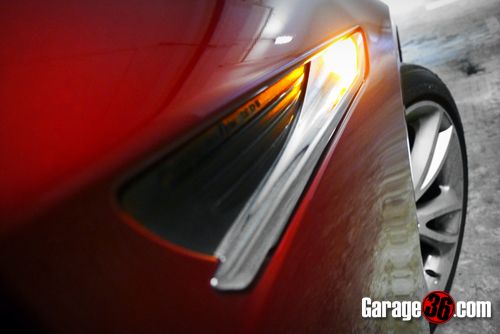 Inside, everything is as should be, controls fall into place, seats hold you tight and are adjustable in everyway. The iDrive again, on a lovely big screen showcasing pretty much everything you need to know when driving the F13. A few notable differences here from it's bigger hearted sister are the trimmings for the dash, the colors of the stitching and the seats. The 650i gets "luxury" seats as standard and the 640i gets "sport" seats, which in my opinion, not only look better, but feel better.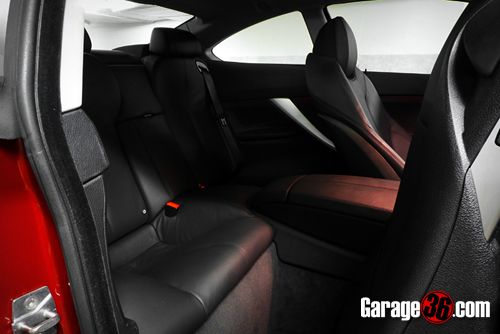 Rear passenger room is again, not the most capacious, but i think most adults wouldn't mind being in there for short jaunts around town. It is what some would call, cosy.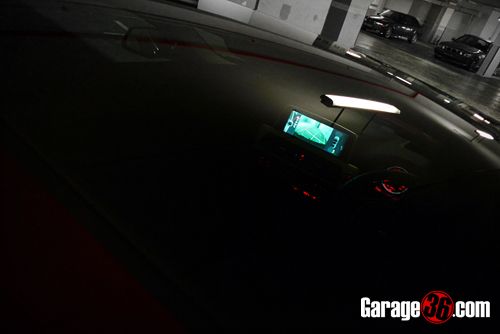 A lovely glass roof also helps to give the cabin a light airy atmosphere.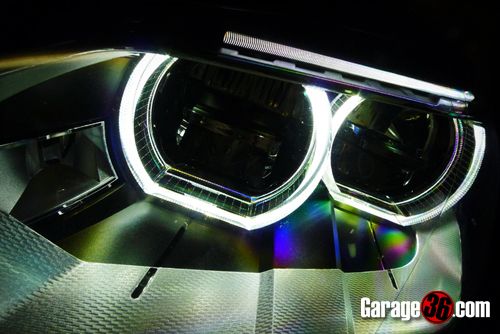 The F13 also brings to us, the latest in lighting technology. Vampire killing LED lamps. The BMW 6 Series Coupe is the first BMW automobile to use Adaptive LED Headlights which not only look very cool, they also work very well without giving off as much heat as regular lamps used to.
Now when you have finished admiring all the physical aspects of the car, we start to go into the more interesting bits. The most important part of all BMWs, how does it drive?
Before i start the engine and get going, let me get a little bit technical. There are now 5 modes of selecting how you'd like to get going. Normal is what is says, everything on the default setting with a biase towards comfort. Sport, stiffens up the suspension, sharpens the throttle, prolongs upshifts and tightens up the steering. Sport+ does what Sport does but brought up another level and allows a limited amount of rear-wheel play before the electronic nanny comes in.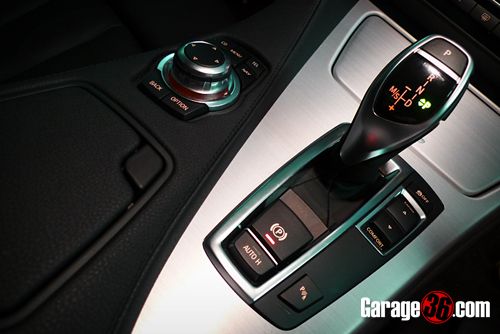 Comfort, softens everything up, and generally gives you a rather relaxing journey without sacrificing too much in the name of dynamics. You can still have fun with the car even in Comfort mode, trust me on that. Eco Pro does what you think it does, it saves you some petrol, to do that, your throttle goes dull and feels like you've placed a few sponges between your foot and the pedal, the air conditioning is told to work less hard, and a little gauge shows up on your dash to tell you how "eco" or not your driving is.
Across the entire range of chassis adjustments though is BMW's petrol saving, Start-stop function, what this does is shut down your engine when you have come to a stop and restart it when you are about to move off again. The application of such a system in the 6 Series is pretty good, as the excellent cabin insulation dulls out the startup vibrations when you life your foot off the brake pedal. Again, it sounds more intrusive than it actually is, because after you have driven around for a while, you realise all you need to restart the engine is just to release some pressure off the brakes. Which means when you sense the lights are about to turn green, a slight fidget of your foot gets your engine restarted as and when you want it to. Cars are just getting so clever nowadays.
With 320 horses and 450 newtons of torque literally on tap (1300rpm), this big luxury cruiser is ready to shuffle all day. The smooth straight 6 powers the 640i from rest to 100km/h in a scant 5.4 seconds. Not too shabby at all. Compared with the V8 powered 650i, this 6 feels a little more sprightly, a little bit more eager in a sense whereas the V8s feel more comfortable rumbling along lower in the rev bands ozzing torque, the straight sixes just feel more keen to play.
The 650i Cabriolet was a lovely machine in the bends, but you can feel the weight transferring from side to side and you muscled it along tight roads, in the lighter 640i, the car hangs on to the corner and lets you know when you've run out of grip when the steering wheel lets go and the car pushes slightly wide. It contains itself very well though and a slight scrubbing off speed brings the car back into line. The coupe feels tight and although it still is more of a boulevard cruiser then a B-road champion, it makes for an entertaining drive on those rare occasions.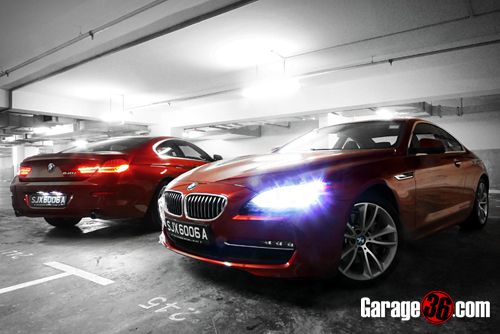 So in conclusion, better value then a 650i? All you'll ever need if you are looking to have fun in a 6 Series? Yes on both counts. The only reason i see you will go for a 650i is either you are a big fan of a V8, or you are just the sort of person who prefers to go the whole hog when it comes to toys. But then, why not go for the newly launched M6? Comes in a cabriolet too.