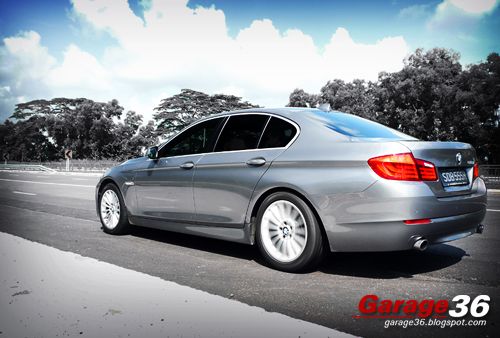 BMW's new 5 series has been with us for a couple of months and a number are already roaming the city streets. Over the weekend, i had the opportunity to get acquainted with the most powerful model sold locally, the 535i.
With its new Twin Scroll "Twin Power Turbo" N55 block, the hooligan executive's choice barges up to 100km/h in 6.1 seconds with 400Nm of torque readily accessible from just above idle at 1200rpms.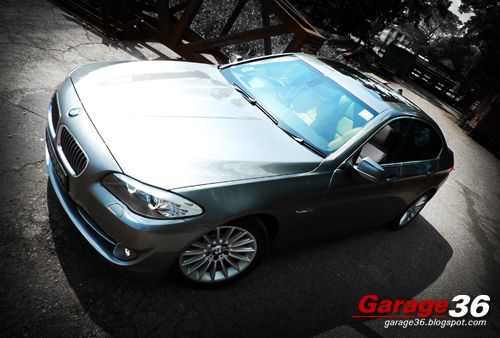 Much has been discussed online about the styling and the general impression seems to be that of an evolution of design rather then the E60's revolution. This is not untrue, but it has always seemed to be the case for BMW's design language, where each model change will take turns being revolutionary, followed by evolutionary. Right now with the F10, we are in the stage of an evolutionary design. Most critics pan the new design as being bland, but at the same time, many hated the look of the previous 5 series when it was first launched.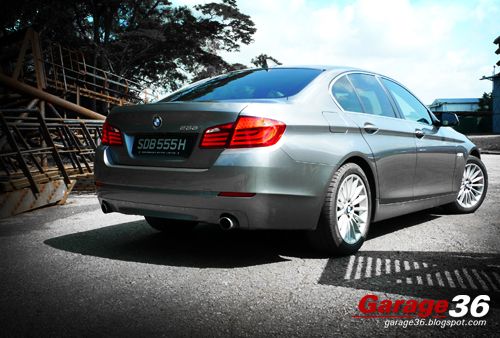 Personally, i like this new look, especially with the soon-to-be-launched M-Tech kit. Although, it does seem as if, the designers skipped a stage in the 5 series' life. Looking more like a step up from the E39 rather then the E60. I love the new strong and in-your-face look of the kidney grilles too.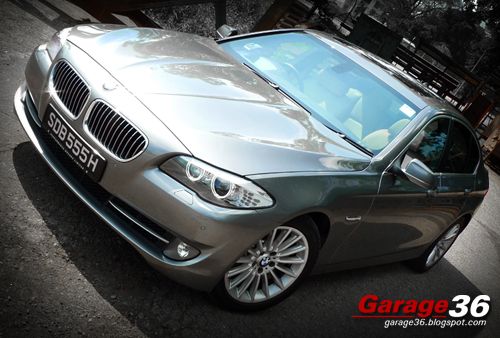 There is something i do not really appreciate about the F10, but have to accept is how big this car is. Seeing it in the flesh is one thing, trying to get it parked is another. It really does feel like a mini-7 series. (They do shared the same platform) As a scale of how big cars are getting, put this new 5er next to James Bond's E38 7 series from 2 generations before, you'd be hard pressed to tell the difference in length and width-wise, almost identical, the F10 even trumps the E38 in wheelbase length.
That extra bit of wheelbase length though, does translate to a rather accommodating interior space. It is a great place to be in too, electric everything and the revised iDrive works like a treat. The centre console, similar to the F01 7series, marks a return to the driver-angled design from past BMWs and it is a welcome return indeed. Black panel climate control readouts with high quality switchgear ergonomically spreadout but within reach of your fingertips. It takes a short while to reacquaint youself with all the controls, but nothing major. The sound system on this car, is just lovely, i could just sit in the car, turn up my favourite tunes and just laze around in the dakota-leathered seats with the sunroof drawn.
The flappy paddles on the steering have also been reworked, previous BMWs used a push-pull system which allows for single-handed operation for the gear changes. Depending on your preference, they are now of the more conventional left-down, right-up paddles. I have actually gotten used to the original BMW push-pull mechanism but again, this isn't a major issue for me, and for most drivers, i suspect, this is much anticipated improvement.
Now that we have gotten the formalities over and done with, the all important question many have been asking me, how does the new 5 series drive? Previous 5 series' have all driven beautifully and the new F10 has a lot to live up to.
In one sentence, if i am to be honest, the new BMW F10 drives like a great car, but not like a great BMW. We've read many reports about the uncommunicative steering and i won't be repeating what you've read, yes it could do with more feedback, but does the steering provide a feel of the road as you're thundering along? Yes it does. Does it weigh up as you push into the corners? Yes it does. Does it tell you where exactly the wheels are planted and pointing? Most of the time. Could it do with more communication and a quicker rack? Definitely.
I'll have to state for the record, that i'm pretty sure 90% of 5 series buyers will not drive like me, and that in day-to-day town driving, there are few better cars to be in. Going through the limited local backroads, it just didn't feel at home, the car was just too wide to fit onto the small lanes and altough there was a massive swell of power waiting to be unleashed under the bonnet, there were few places where i could bury my foot down to confidently induce tail-wagging happy moments. I was in a way thinking more about how to place the car rather then how to best go through each corner. The weight gained on this car though, doesn't hamper progress and the brakes do a pretty good job shaving speed off a hot-footed 5.
Driving the new F10, you have 3 adaptive chassis settings to choose from, Normal, Sport and Sport+. I find Sport to be the defacto mode of choice, allowing for safe piloting whilst at the same time, giving drivers a slight degree of slip when you decide to throttle down mid corner. Even putting it into Sport+, this car never loses it's sure-footed, planted feel. One minor issue i have would be the ride in normal mode, it is still slightly on stiff side and the degree of difference from in ride from normal to sport feels rather minute.
Sport and Sport+ settings also gives the car a sharper throttle response as the car shifts through 8 of its forward gears. That's quite a lot of gears there. So much that i personally found it best to leave it in Sport mode most of the time, in normal mode, the tendency of the self shifter to move up to top gear often left me having to modulate the throttle more then i'd prefer. At the worst of times, the gearbox having to hunt through the gears to find which was most suitable. Throttle response in normal mode had a slight bit of lag as well. It all works well when your driving through city traffic but if you prefer to have a "joyful" drive, leave it in sport where throttle response was spot on and the gearbox doing a perfect job of selecting or retaining gears.
So in conclusion, how do i feel about the new F10? As a day to day car for the executive businessman, it's hard to beat, it's luxurious, powerful, comfortable and has a bulletproof image. Fitted with the new M-tech kit, it even has the looks. It does what it was built to do very well, and it's probably one of the best executive sports sedans on sale in the market. My opinion? If you are in the market for an executive sedan, go for the 523i Highline, you'd still get all the creature comforts and presence for less money.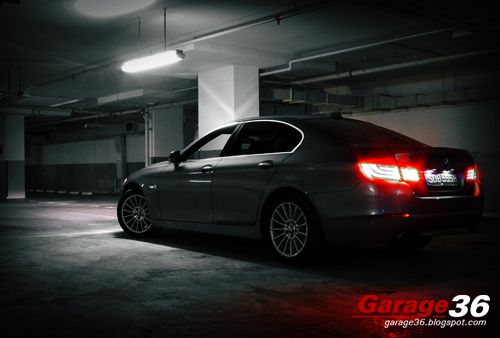 The F10 535i, is a great car. One thing though, as a range topper, it just needs some extra magic added to make it fizzle like a really great BMW. I'd suspect maybe, a quicker steering rack.