The idea of coating the little red E36 in a Nissan shade of grey was not really thought of recently, but rather more then a year ago. Back then, knowing that to refresh a bodywork full of knicks and scratches would require a fresh coat of paint, i noted this down on a to-do list as i went along gathering bits and pieces to finish up the car. Fresh lenses, fresh side strips, a brand new bumper... etc...
Some might recall even on my trip to Japan, i bought some stickers to be planted onto the car after it got some fresh paint. Never realised i would be keeping them over a year as i got the car sorted. :P
After months of engine work, little red was ready to go back on the streets. All the while i kept pondering on what color to give the zesty 3 series. White was out not just because of the trouble keeping it mint, but i also felt it was overdone. Black was keep off my list of colors for the same upkeep issues.
Keeping it red would have been boring, even though everyone else i knew felt it should stay red. I toyed with the idea of
Atlantis
or
Laguna Seca Blue
, a little garish perhaps? Dakar yellow would have been in fine keeping with the BMW colors but i just didn't felt like driving around in a yellow car. I then decided that since i was going to do a respray, i might as well open up my options to colors outside BMW's palette. The color that stuck to the back of my mind was Lamborghini's Grigio Avalon. Seeing it on a Super-Leggera made me almost certain this was going to be my new color.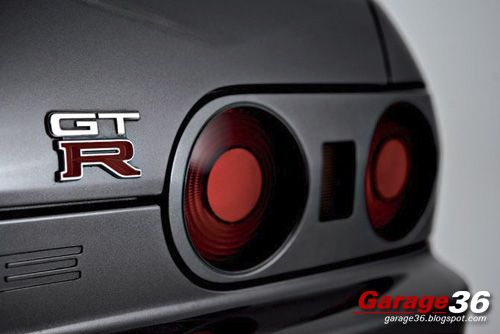 But then, fickle me. As i thumbed through the images of grey cars on google, i started to notice a cult car that i've always wanted, also a car i'll always buy when playing Gran Turismo. It was the Nissan R32 GTR, shining brightly in it's distinctive shade of Gunmetal. Further probing turned up the paint code to be KH2. I flipped through pages of magazines, image searched through dozens of sites just to save pictures of this car, in this particular shade. In the end, Godzilla won over the Bull (yet again), as i felt that yes, this is a color that just "felt" right.
With a nice mix of Japan-picked parts on the E36 (Japan-spec BBS, Japan-spec Nardi, Karo-ism carpets, Studie stickers...), choosing a JDM color made a little sense. So research done, now to save up some dough.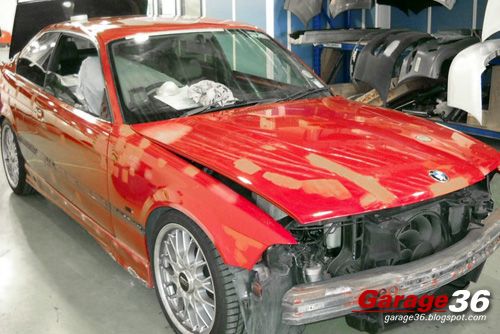 It was some time before the car was finally sent to a paintshop. As u can see, the amount of filler on the car just shows how many dings the body had accumulated over the years.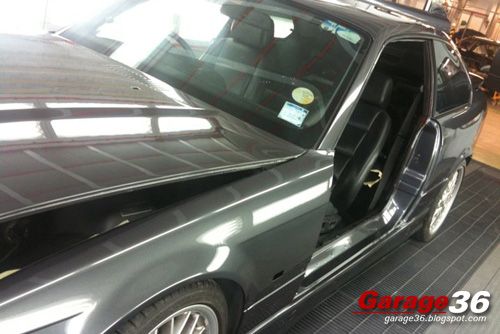 After many delays and enduring weeks of horrible paintshop experiences. (Details of which i'd rather not write.) The E36 was finally out but still steps away from completion. The windscreen surrounds needed replacing and i guess the paintshop 'forgot' to install my front lower lip. I also want to get a brand new set of fogs and get them tinted yellow to complete that "JDM-Euro" look.
Story to be continued in a new post :)