With the all wheel driven
GTRs featured earlier
, it's now time to turn our attention to the drivetrain of choice for many drivers out there. Engine up front, driving the wheels out in the rear. For those of us who prefer going through life sideways, this is pretty much the staple diet of drifting drivetrains. Nissan being no stranger to making sportscars had a number of FR cars on the showfloor.
Here is a compilation of some of them.
Kick starting this feature, we head on to the main Nissan arena where a
Nismo
tuned Fairlady 370Z sat during a Q&A session with Mr GTR-san.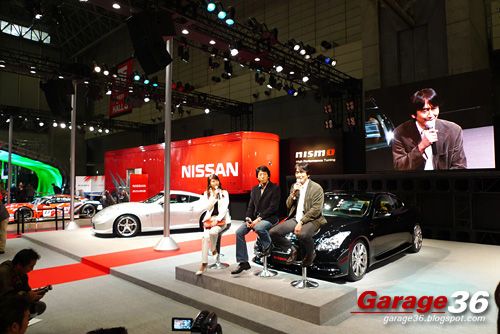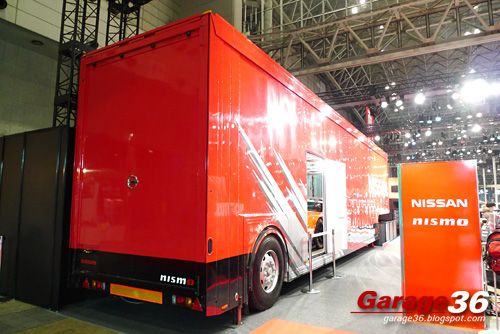 Head behind the stage though and you'll find a trailer, and inside the trailer was the JGTC Fairlady in full race-spec glory.
One of the best looking 370Zs' of the show was this
Tamon Design
demo car with a really beautiful kit and a perfect stance. Check out the little VR stickers exiting the rear diffuser.
Yokohama
also had a Fairlady on display with a "Fairlady" standing next to it!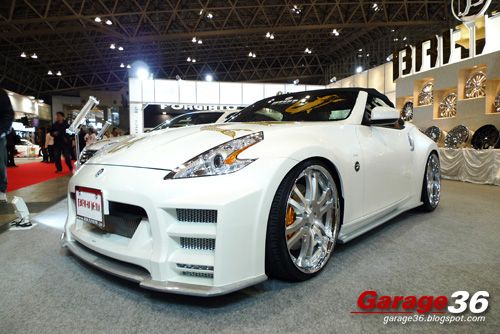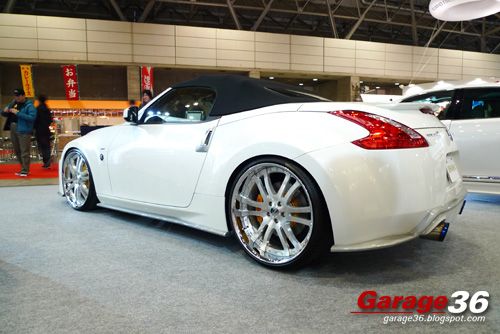 Branew
also debuted a new bodykit for the 370Z.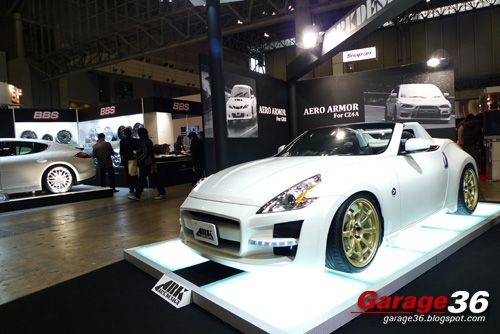 Ark Design's
car was one i honestly wasn't really too fond of. I found the choice of wheels a bit strange.
Tomei's
car was given an upskirt for us to have a look at their new Titanium exhaust.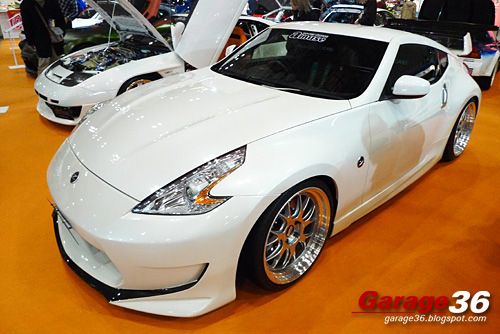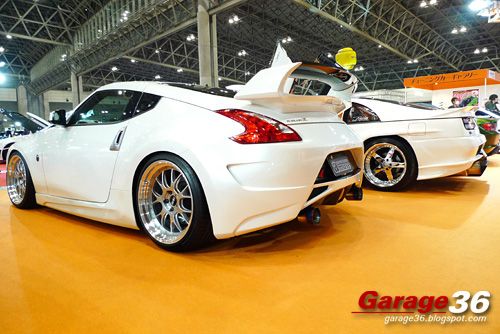 Another stonking 370Z comes courtesy of
Power House Amuse
. Right next to the Power Amuse car was another wild creation from the speed demons at
Abflug
.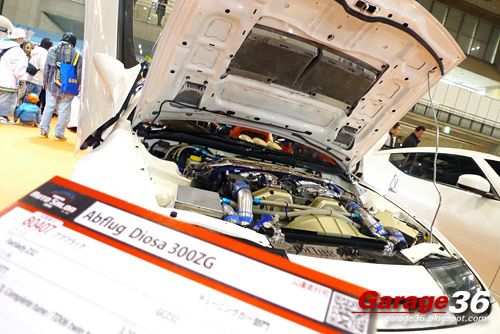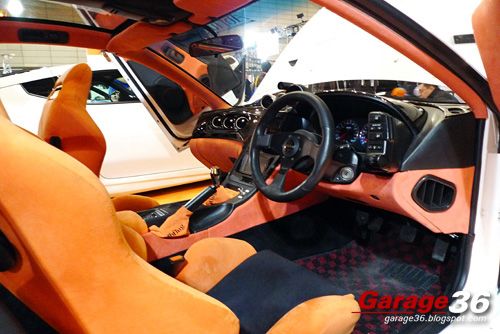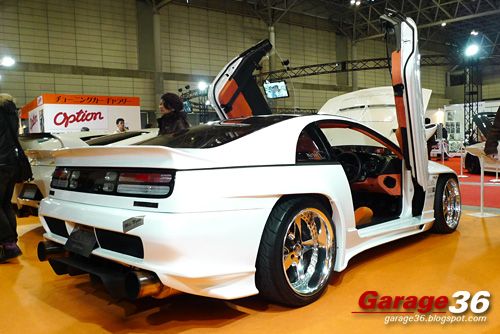 Check out the amazingly clean engine bay. This Z32 looked crazy fast just sitting on the show floor. Imagine it on the Wangan.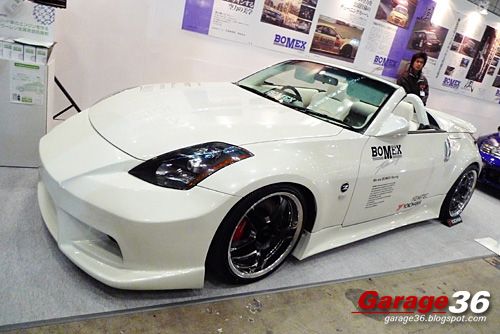 These two Fairladies had their bodies madeover by the people at
Bomex
. The Z32 Cabriolet is a relatively rare machine in Japan and attracted a fair bit of attention.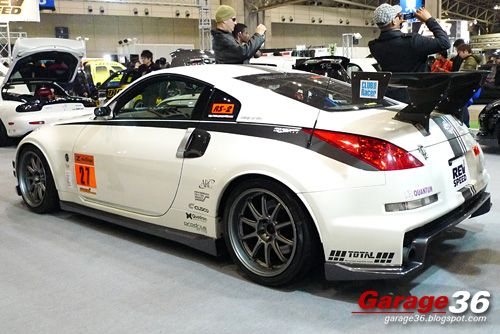 No stranger to tuned cars, this 350Z had been breathed over by the power hungry folk from
Esprit
.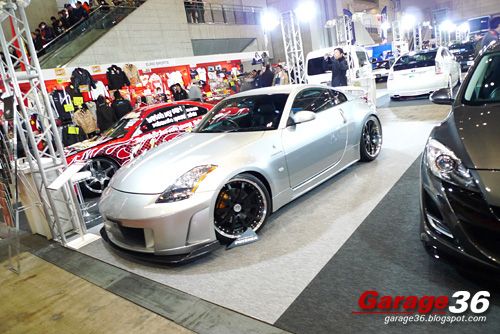 This sleek silver Z33 comes from
Vorschlag Design
.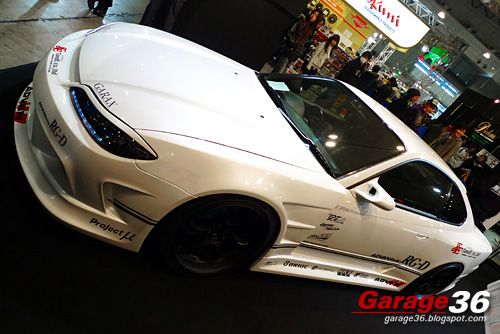 Not to be outdone by it's younger bigger engined brother, the S-Chassis cars were out in full force. The best looking S15 of the show was probably this widebodied
T&E
S15 Silvia running black Yokohama Advan RG-Ds.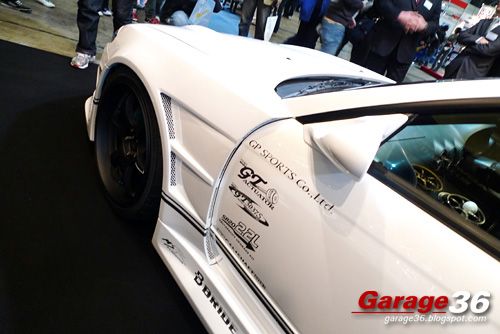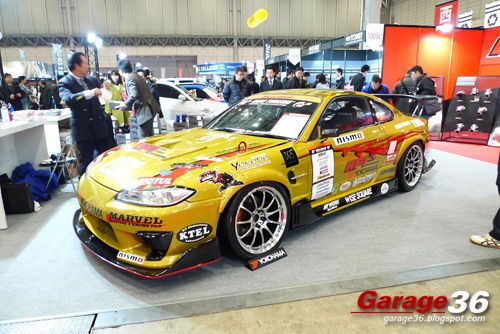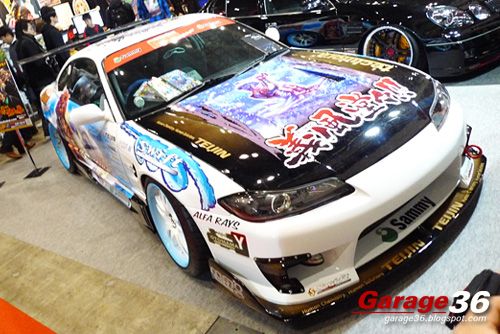 Some of the many crazy looking D1 cars on display.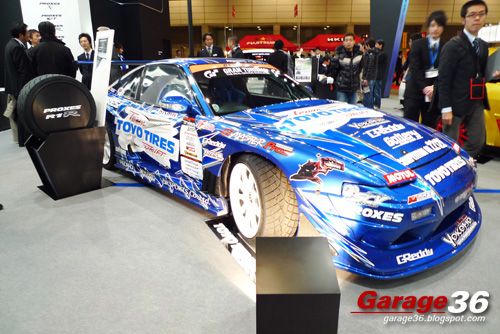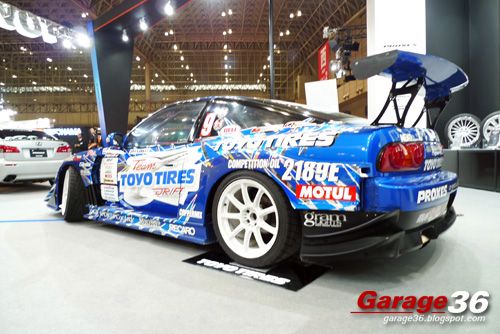 Another D1 machine, this time, from
Team Toyo
.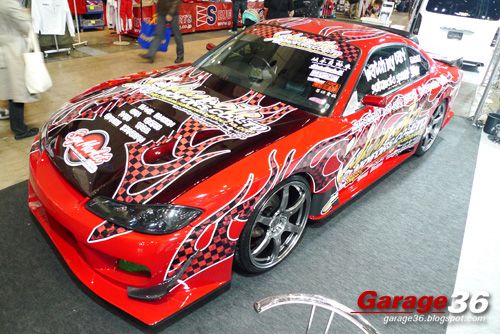 A wild looking S15 from Sakamoto Motors.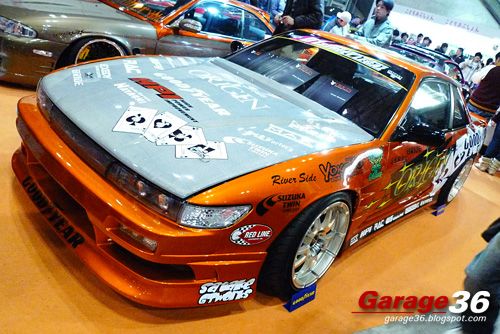 Origin's
S13.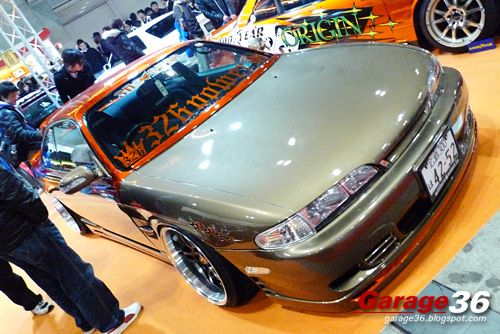 This S14 from 326 Power sported a very unique "wooden" finish.
Behind it sat an Odyvia from Spirit. With a front end Honda Odyssey conversion. Awesome.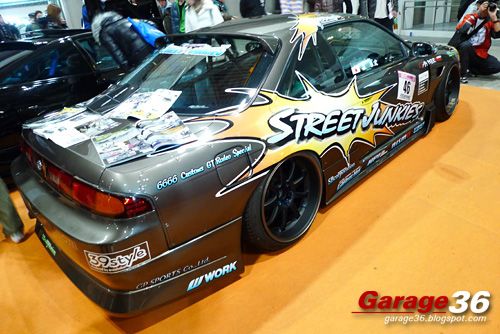 Another S14, this time from SB Corporation.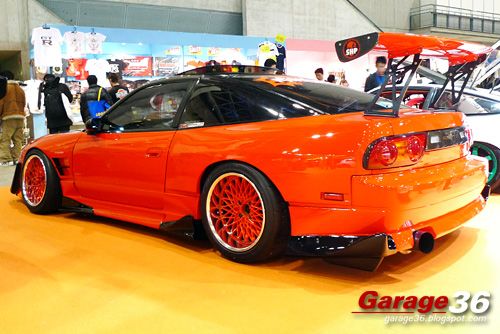 I just loved this red on red S13.
Not content being on the sidelines of the Coupes, the 4-doored bunch wanted in on some of the showfloor action.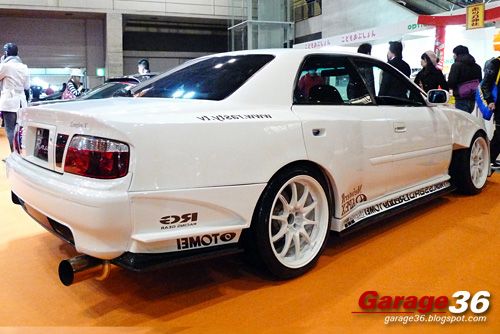 A totally awesome and clean looking Nissan Gloria from
Rasty
.
A number of Infinitis were out to battle the LS limo barges from Lexus.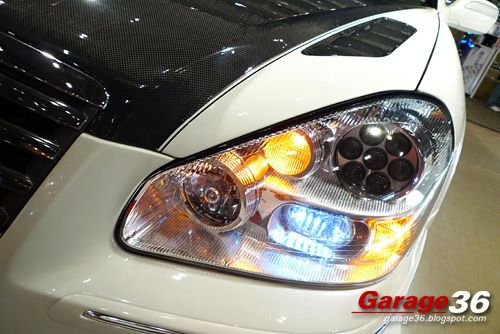 I just loved the details on these two from
BLOW DESIGN
.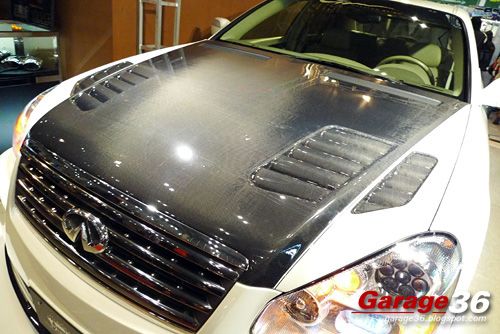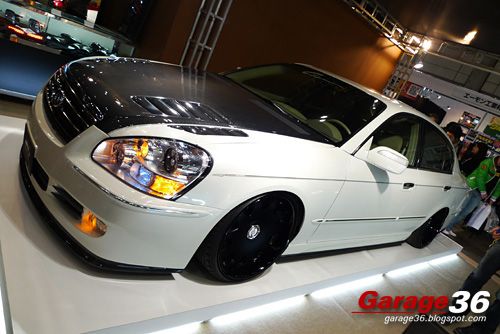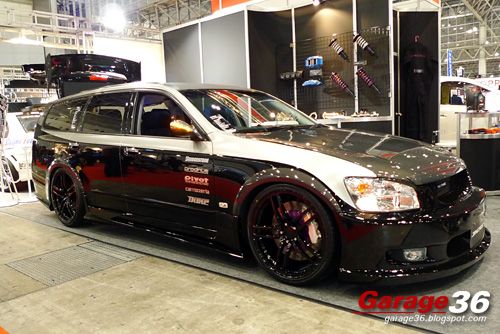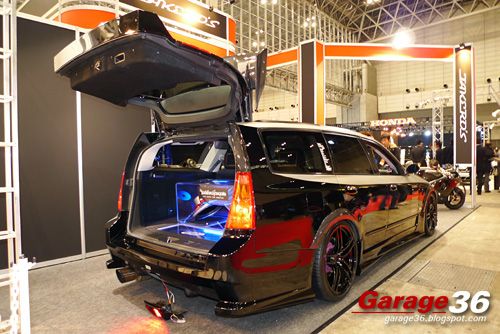 The Nissan Stagea is still a popular platform for all you Wagonist!
Takero's
wagon being one of my favourites.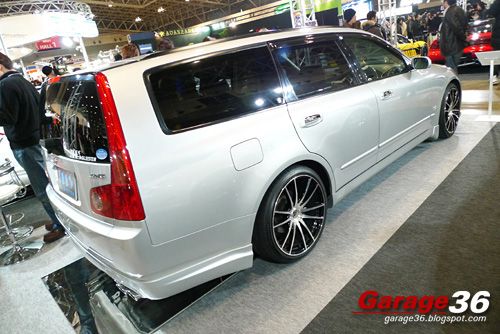 This one above is from Zees. Looks kind of plain though.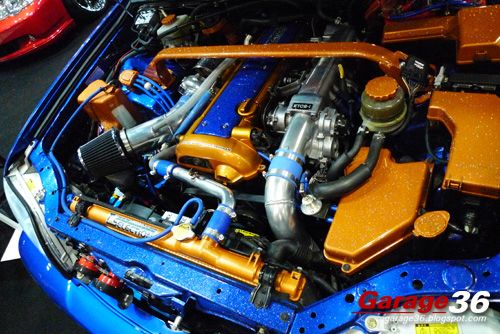 The blue example above sporting a totally crazy low-down stance with a full decked ICE install and similarly fashioned up engine bay.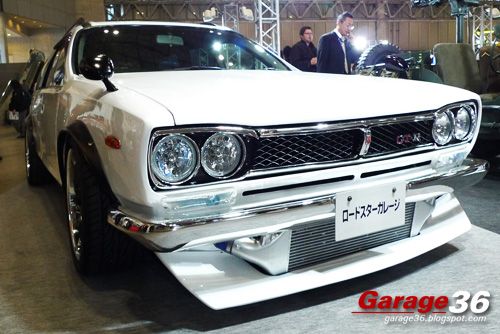 And the Hakosuka-Stagea! One of the high points of the entire show for me. I really really love this build. Totally amazing detailing. I will be doing a full feature on this car in the future. Look out for it!
I can't end off this writeup without Nomuken's ER34 right? Here you go!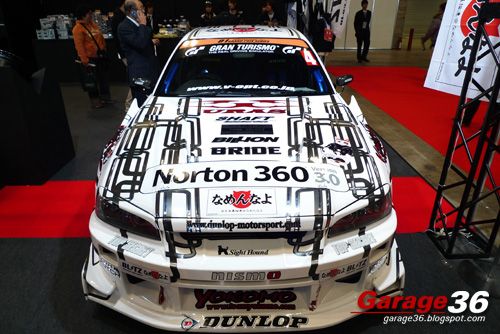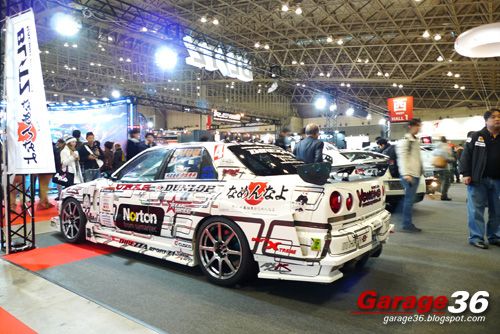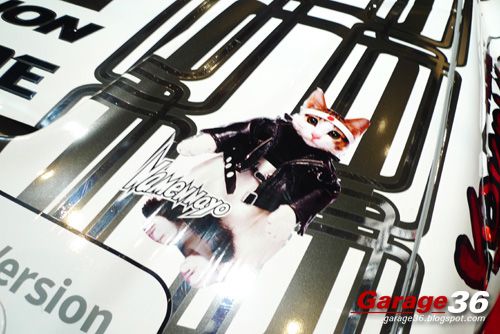 Namennayo!!! Translated: "Don't bullshit me" or "Don't look down on me"!!!