Increasingly popular with the tuners, the new generation of EVOs and WRXs' were out in full force this year. Here are a few i saw during my visit.
Having a leaning towards clean cars, this yellow
Arai Motorsports
prepared STI was one of my favourites of the show. The white Work wheels on the yellow body really makes the car stand out. Kind of gives it a "Rally" feel to it right?
Well, the Arai Motorsport guys tune cars to go rallying too, so no surprises there.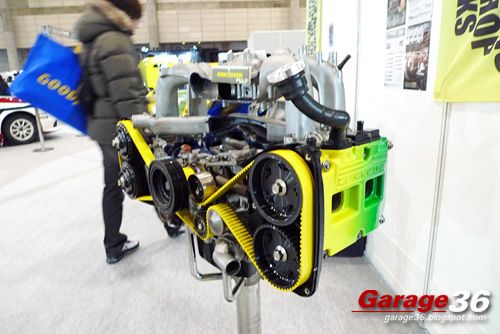 Another Yellow Monster,
Jun Auto's
GRB was on show along with a fully-prepped JUN engine.
A JDM only special from
STI
, the
R205
. This 400 pieces only limited edition has upgraded brakes, specially tuned suspension and upgraded internals good for a modest 316 horses.
Syms Racing
had a cool blue STI on show with a sculptered front wing panel.
Over at
Varis
, there were a couple of cars from
Original Runduce
, one of them, was this GRB. With all the delicious Varis body parts on, this just looked amazing.
The other car from
Original Runduce
, was this menacing looking EVO sporting some pretty cool Varis carbon panels.
HKS Kansai
was on hand showcasing their latest CZ4A. This car has a HKS GT3037S blower inside to help give it that "little" bit extra.
In general the EVO Xs' just seemed to be a tad bit more extreme when put next to the tuned Imprezas of the show. Highlighting this point are the cars from
Garage G-Force
. The CZ4As' design just needs slight design tweaks to get them to badass status, like the black one above.
If that isn't enough, check out the carbon parts on the other G-Force car. One of the fastest EVO Xs out there.
The rear door is made entirely out of CF, they even ignored making space for the windows, just plain CF is enough. Totally crazy and wild.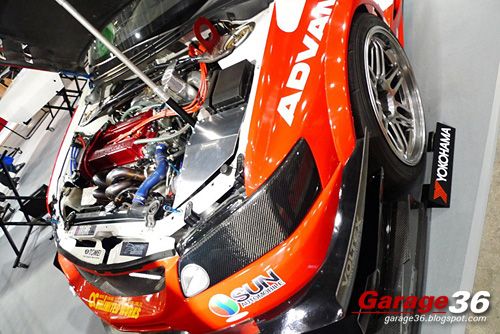 Another car flying the flag high for the EVOs, the Cyber EVO with the craziest front spoiler. I can haz downforce!
Another offering from Jun Automechanic, this yellow EVO X demo car. It was on sale for over 5mil Yens.
Team Orange's EVO X built by
Koyama Racing Labo
. Another monster of a car.
Sadly, with the new generation of cars catching on with the tuners, the previous generation will soon be dwindling in numbers at these shows. But taking the fight to the new challengers,
Fujimura Auto
had a GD on the showfloor.