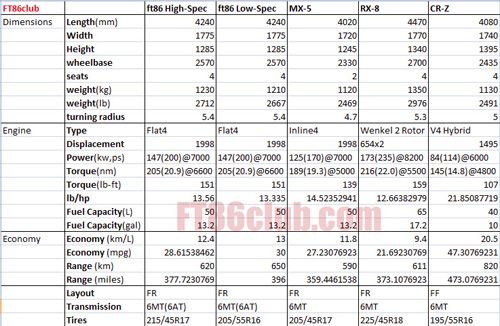 With so much FT86 news coming out ahead of the final unveil, the latest juice off the net so far hashttp://www.blogger.com/img/blank.gif been a full blown specs sheet covering everything from power to weight and even the different trim levels the FT86 will be offered in. Either someone from Toyota is going leak crazy with all these spy shots or maybe a good calculated move from Toyota to drum up all of us crazy fans. Either way, it works out for everyone!
Here's the lowdown (all info from the great guys at
FT86club.com
):
Boxer 4 DOHC, 1998cc.
HP: 147kw (200ps) / 200hp @7000rpm
Torque: 205nm (151 lb/ft) @ 6600rpm
Top spec manual is 1230kg, auto is 1250kg.
Low spec manual is 1210kg, auto is 1230kg.
High spec brakes: ventilated discs front and rear.
Low spec brakes: ventilated front, non ventilated rear.
Both spec have VSC, front passenger and front and rear curtain bags. Top spec has front LED, leather steering wheel, 6 speakers audio (low spec has 2 speakers), white rev counter with shift light and sport pedals. Top spec also has "smart entry and start".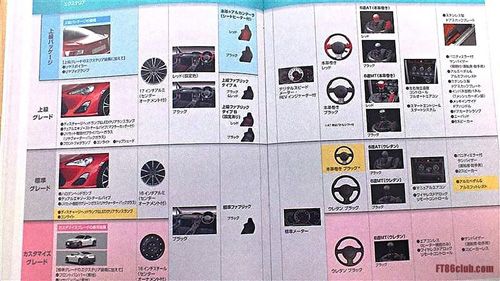 Base halogens, optional HIDs on base trim, standard HIDs on high trim
LSD on all MT cars
Stability control standard
Only 2 speaker audio on base car
High Spec:
Has "high-quality fabric" (上級ファブリック).
Option for leather heated seats with Alcantara inserts.
Steel door sill insert / scuff plate (ステンレス製ドアスカッフプレート)
Interior metallic door handle inserts
Carbon fiber center console trim
Door courtesy light
Knee pad on console
The "Customize Grade" at the bottom is interesting:
"Customize grade" bare bones model is 1190 kg !!
Unpainted bumper
16 steelies (says ornament-included, guessing it includes the logo)
plastic steering wheel
NO A/C (only a heater)
Power door locks
Sunvisor (no vanity mirror)
No speakers