When you think about it, the launch of the BMW 435i Coupe presents itself a rather perplexing proposition, here is a 4-door Coupe derived from a 2-door Coupe which itself derived from a 4-door sedan that can trace its family lineage all the way back to the original, a 2-door Coupe. Confused yet? Don't be, because despite the Germans strange use of language when describing cars, the 4 Series Coupe is pretty good.
I'll admit i was a skeptic when it first arrived on the scene. The biggest question on my (and i suspect many other) mind was why don't people buy the already excellent 3 Series sedan? That was of course before my eyes glazed over the svelte bodywork of the Gran Coupe, at once familiar and new at the same time.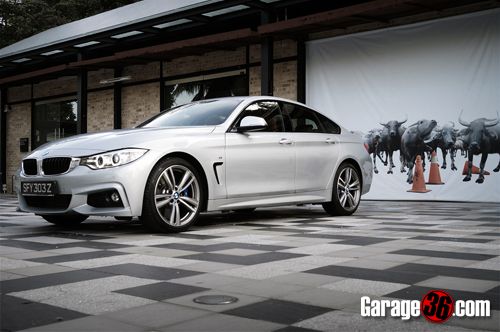 With the elongated bonnet, side vents and panel surfacing carried over from the 4-Series Coupe, the Gran Coupe takes the best bits of the Coupe and mixes it in with 2 extra doors and a long elegant roof-line that tapers into a large tailgate reminiscent of the GT. Looking more sophisticated than sporty and easily best looking of all the 4-door "3" variants, the 435i Gran Coupe sits lower, wider and longer than its 3-Series counterparts. Come to think of it, this is probably what the designers at BMW really wanted the new 3-Series to look like. It also comes with frame-less windows which everyone knows, oozes cool.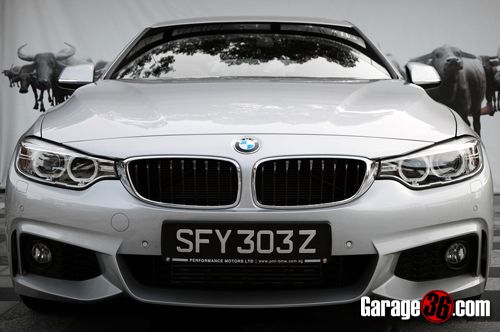 Enhancing the already pleasing aesthetics on our shiny silver test car are tasty bits of M-Sport trim featuring meaner looking bumpers, high-gloss black trim, 19s all around and shiny twin chrome pipes shooting out rearwards.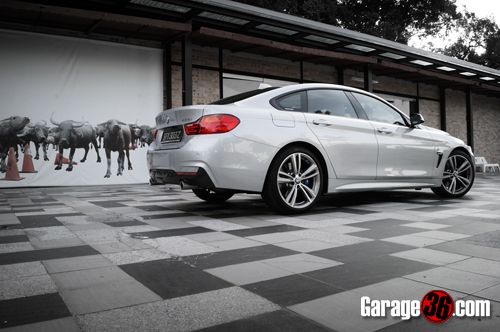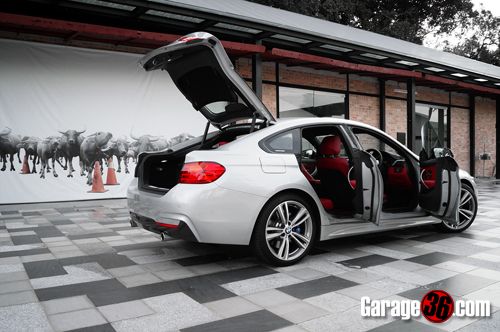 Our test car came spec-ed up with a red and black interior on a silver body. They could not have picked a better color combination as it looks a treat and really makes the interior pop.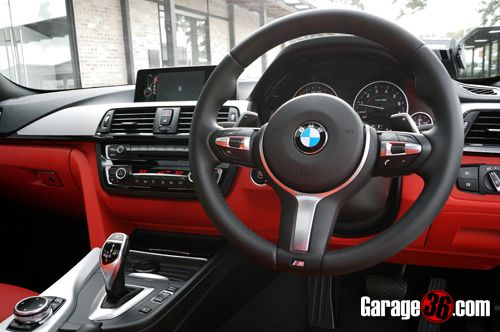 For those up front, the excellent driving position and overall layout have been carried over from the Coupe. Textures and surfaces feels well put together and the soft but supportive seats have adjustments to clamp you into the leather like a baseball in a glove. Like the Coupe, eager drivers will easily find their perfect driving position with ease and the very lovely to hold and behold M-Steering wheel makes an appearance in the Gran Coupe after being strangely absent from the Cabriolet. They should really keep it standard issue in all 435i's. (Actually, i think they should make it standard issue in every new BMW.)
Rear seat passengers are decently catered for with adequate shoulder and legroom. The rear seats are set low into the cabin and two full sized male adults will fit comfortably while 3 might find it a little bit cozy. Unfortunately headroom for taller individuals might be a bit tight due to the elegantly sloping roof.
Speaking of which, with the inclusion of a lift-back style tailgate, boot access is now through a larger aperture earlier seen on the 3-Series GT. While luggage space remains the same as normal sedan, the inclusion of the rear hatch does make it appear bigger and makes it easier to load or unload daily necessities, golf bags for instance.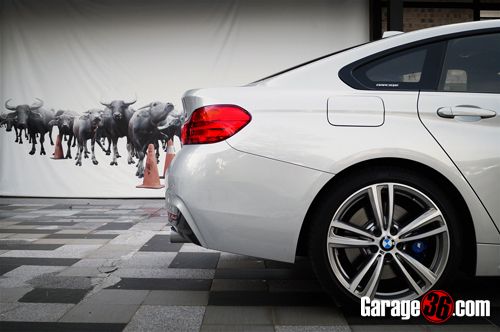 We'd only be covering half the story if we didn't sneak in some mention of the driving dynamics. Hallmarks of every BMW and rarely do they disappoint. The 435i Gran Coupe is no exception when it comes to performance figures, we've seen this Twin-scroll turbo-ed 3-litre and ZF 8-speed combination in many other applications across the BMW range and the numbers here remain largely the same, 306 horses and 400Nm of torque. The century mark comes up in 5.2 seconds and the meaty power-plant will continue the charge from license busting speeds into jail-time territory all day without breaking a sweat. Big brakes tasked with hauling this silver bullet down from triple digit speeds do the job well and unless drivers head to the tracks, will probably not experience any semblance of brake fade.
Interestingly, i find that the damping characteristics of the Gran Coupe while being more athletic in feel than the Sedan (maybe due to the lower ride height and seating position), also seems to ride slightly better than the 2-door Coupe. Especially so when i thumb the adaptive M dampers into "Comfort" mode. Could the inclusion of a B-pillar actually help to iron out additional bumps from the road or was my bum feeling extra sensitive when i was out driving the Coupe? Regardless, on comfort mode, it still drives very well and manages to flatten out all but the most uneven of roads. Making point to point journeys enjoyably comfortable while an underlying firmness keeps the car feeling planted to the tarmac. With a juicy reserve of power nestled below your right foot, the 435i Gran Coupe allows for really quick progress once called upon.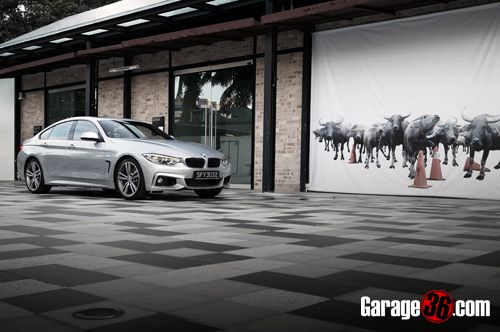 I would like to at this point go into detail about it's amazing handling through tight bends and windy back-roads but i cannot, not because it's so very anti-social nowadays but more because i never actually took it through tight bends and windy back-roads. For most of the time i had the 435i Gran Coupe i drove it like how potential owners probably would, on highways and byways, through the city and back again with the occasional blast through some long high-speed bends where the car remained positively poised while the electric steering stayed accurate and direct. No where near any of the handling limits of the car i reckon, but throughout the time i had with the Gran Coupe, i never once had a frown. It looks beautiful, the interior is gorgeous and is really a nice place to be in. It drives well and there is no wanting for additional power. Priced very close to the 2-Door variant, those looking at the 335i Sedans will have to decide if the added style is worth the added cash, but those already looking at a 435i Coupe but have needs for an extra 2 rear doors will be presented with a dilemma, but what a very pleasant problem it will be.