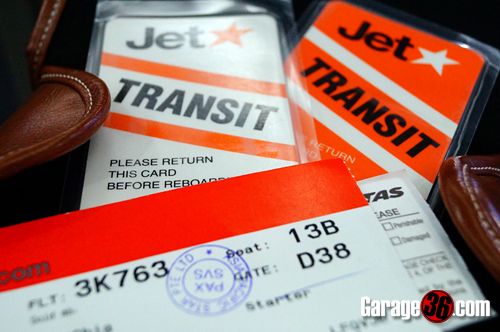 Hot on the heels of our Tokyo trip early this year, i managed to snag two discount Jetstar tickets to the bustling region of Kansai many months ago. After counting down to the day itself, our holiday plans were almost totally ruined by the cancellation of our flights literally just hours before we were due to fly! A frantic and frenzied phone call later, we were soon seated on a flight out of Singapore hours later. Note to self, always buy travel insurance, especially when flying budget!
The ride into Kansai wasn't the most pleasant of flights, with a late departure time of 2am and a transit in Manila at 5am, we arrived into Japan at 11am, 5 hours later than our originally scheduled flight, and due to the flight timings, almost zero rest.
The journey into Kyoto gave us some respite from the journey as we could at least settle down into the comfy seats of the Haruka train and enjoy the sights leading into what many consider to be the cultural capital of Japan.
That would be the Meiji factory i reckon, a giant slab of chocolate. I couldn't get a good shot as our train pushed ahead and it was out of view before my camera was fully out of the bag.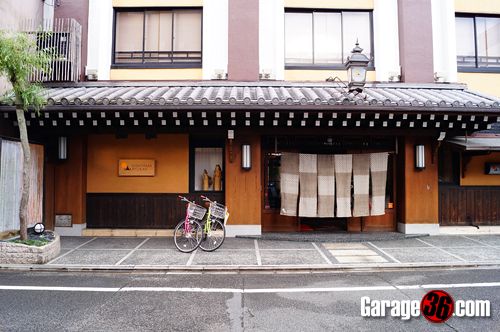 After some tugging and pulling of our luggage around the train station, we finally managed to find our accomadations for the next two nights, Nishiyama Ryokan.
Here's a look at our little room before we messed it up. It was somewhat basic and something a little quirky and different. Was it as comfortable as a similarly priced hotel? Probably not, but it was a unique Japan-only experience.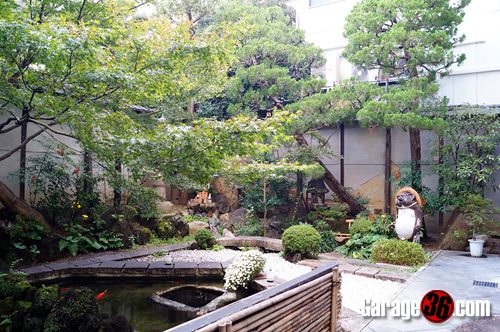 We sat in the lobby for a while as they had free wi-fi. Below us in the basement was the public hot bath which overlooked the edge of this garden.
After getting some rest, we headed out to the main shopping belt, towards Nishiki market. It was AWESOME!
Fancy a fat cat or an expensive knifu?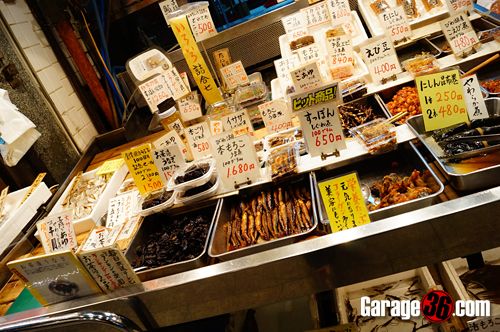 Of course the order of the day here was the food. Lots and lots of food. Some stranger than others.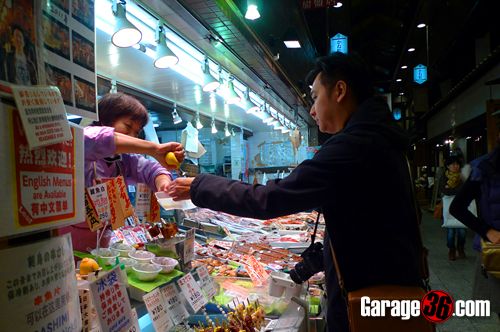 But plenty could be bought and eaten on the spot.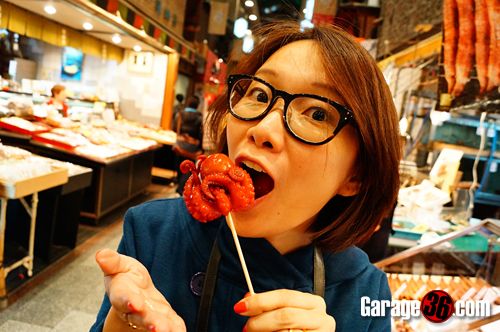 Om nom nom!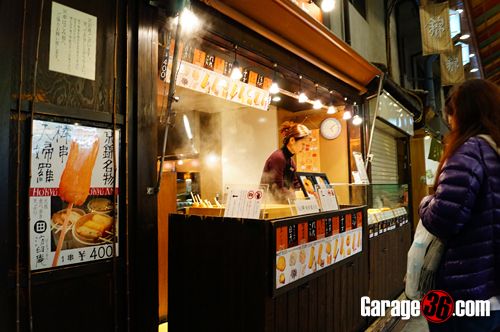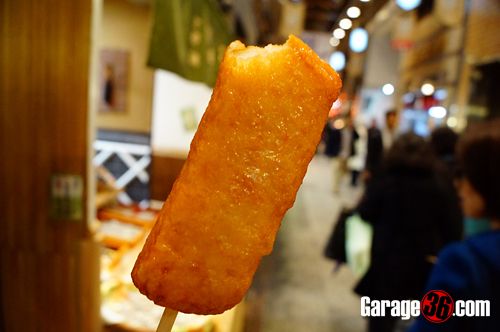 The food here is just so nice. Makes you almost forget what a long tiring day of travel you had. (Almost)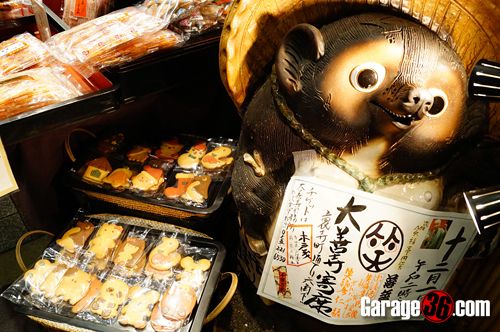 Of course you can always buy snacks here to be consumed later or as gifts.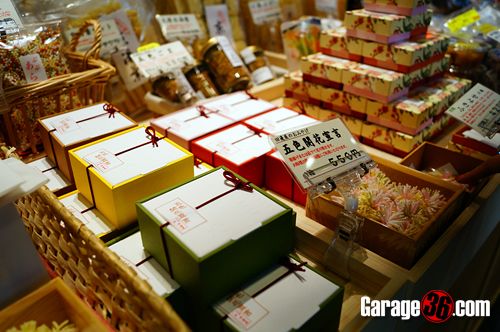 The Japanese have a tendency to provide some crazy packaging for the smallest of items.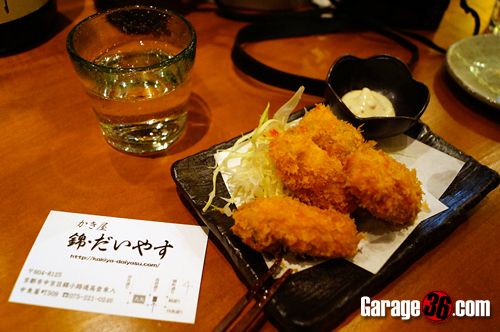 We found the best oyster bar ever at the end of the Nishiki street. Great oysters at even greater prices.
I feel hungry just thinking about it, this place is a MUST GO.
They had an interesting flower arrangment outside.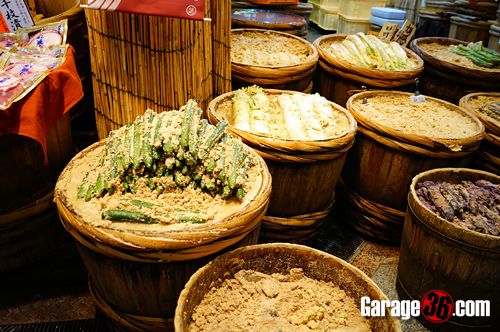 Nishiki market might cater to us tourist but it is also a real market for the locals to buy produce for cooking back home. Who doesn't need a giant cabbage right?
We headed back onto the shopping belt to avoid stuffing our tummies because we had a keiseki dinner arranged for us back at the ryokan. I'm guessing the above joint sells bit of cow.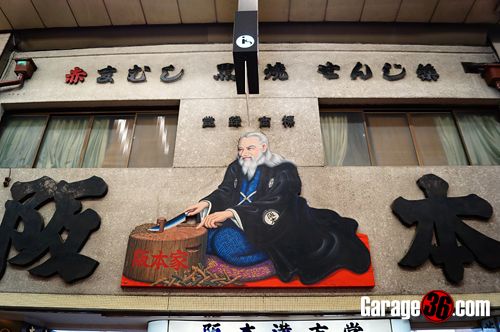 No idea what this was but it looked interesting.
KFC! Never tried it before in Japan, didn't get to try it this time either.
Being the cultural center of Japan means there are many temples in Kyoto, so many in fact you pretty much see a temple anywhere you go. Even within the main shopping belt, temples abound at every corner.
Spotted at Village Vanguard, something i should have picked up! Didn't manage to see it anywhere else. :(
These though, i saw at various other locations! With that, we headed back to our ryokan for dinner.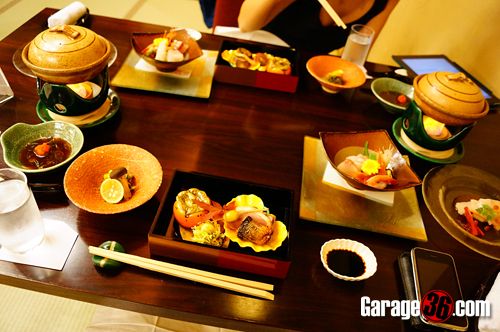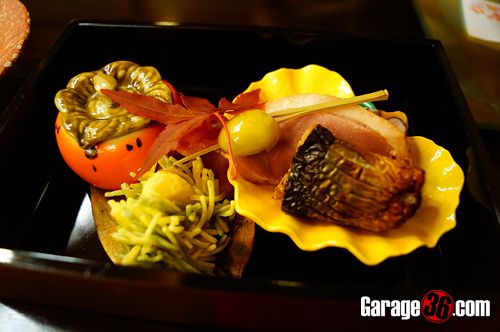 The kaiseki dinner was something interesting, it was pretty elaborate and really nicely presented, there was always plenty of food! The contents of the dinner are supposedly made from what's seasonally available and it made for a unique meal. Flavors were of the natural sort, no heavy sauces or marinates here, just what you get from the ingredients used.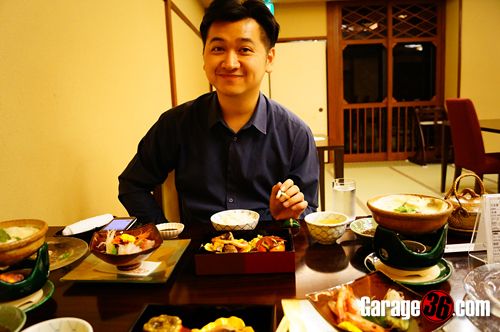 After our somewhat heavy dinner and a change of clothes, it was time to go soak in the hot public bath and call it a night after a long long day of travelling. Bring on day 2, bring on Kansai!