First impressions as it comes, is probably one of the aspects of your life where you pay quite a bit of attention to, when it comes to meeting new people, nailing a job interview or making a sales pitch. Imagine that, in just the first few minutes of meeting someone new, we would have already forged in our minds, either a positive or a negative reaction towards them. Such is the way we are wired.
Studies show that initial encounters are emotionally concentrated events which can overwhelm us. We walk away from such experiences with a first impression that is like a Polaroid picture, a head-to-toe image that develops instantly and never entirely fades.
How this happens is our brains create a composite of all the signals given off by new experiences, voices, appearances, postures and even handshakes, all form up into either a positive or a negative impression. Over time, of course, this impression could change, but if you are just meeting someone for a couple of minutes, that impression could last for quite a while. To make a good impression, you need to be particular over a number of things, you need to dress well and look presentable, you need to be clear when you communicate, you need to be a good listener, and you need to pay attention to your host or new friend. It seems like a lot of work, but get it right the first time and it'll all be worth it. A positive impression can lead to doors being opened for you, a negative one will lead you to the door.
All this leads up to the general impression (hehe), of cars being sold locally. If we, as everchanging human beings have it hard making a good first impression, imagine how hard those test cars have it. For most buyers, the longest time they'd have to spend with a brand new car is sitting in the car, inside the showroom floor. Would you like a test-drive sir? Here's a tried and tested route with no bearing on your daily routine. So for new car buyers, to truly gauge a car, it can be tough. A positive first impression counts. It counts for a lot.
My first car was an SUV, it was a big lumbering chunk of metal, with a ladder chassis, green paint and an extra gearknob behind the normal gearknob. Flop it around and it engages full time 4WD, flop it back again, it locks the differentials and puts the gears into an "off road ratio" setting. It all sounds very macho and off-roady, but on the blacktop, it rolled like a lorry, had tyres that almost slid the car off Benjamin Sheares Bridge and it broke down so many times, i had the tow truck driver on speed dial. I didn't like it very much. From that day on, i've never really liked SUVs, i never really got the point of them, i've always thought Station Wagons were just as good or even better in real life situations. As you can see, my very first SUV left a pretty bad mark on me till this day.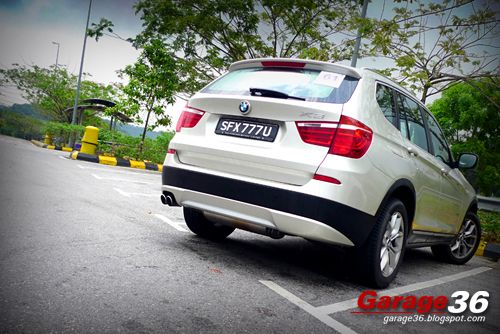 Which brings me to the new BMW X3 xDrive35i. On paper, it all looks pretty tempting, a twin scroll turbo-ed 3 litre straight 6. One of the best engines out there now, pulling out 300 horses when on song and for the main event, at just over tickover it punches out 400Nm's of torque. It sounds very sporty, it sounds really good, but it also is an SUV (or SAV as BMW likes to call it). Oh dear.
The previous X3 had a somewhat difficult beginning, it was loathed by reviewers, looked a bit strange on the front end and it somehow felt like it was trying hard to be an X5 but not quite there yet. So for this new one, BMW had a bit of work to do.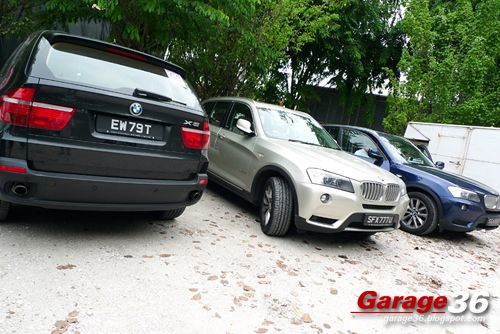 Now i've sampled a couple of the X-cars from BMW before, the X6 and the X5, so i do know that BMW can build some pretty formidable SAVs. I liked the X5, less so the X6. Even though the X6 drives like the clappers, and slingshots you through corners, i've always felt it abit of a handful in this space constraint country of ours, the X5 being slightly smaller, had better all round visibility, could fit more people and could carry dogs in the back. Perfect.
How does the new X3 fare? Well, for starters, it looks alot better. That fussy front end has been replaced with much bigger and broader set of kidneys. The sides have swoopy lines cutting into the bodywork tapering towards the back. The car sits almost angled to the front, even the window baseline sits leaning forwards. Imagine yourself lifting and hunching your sholders forward, something like that.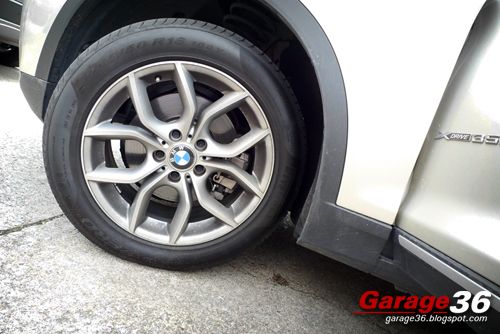 The new X3 is an all round bigger car then before, half an inch taller, over 3 inches longer, an extra inch wider and a little more ground clearance. Doesn't sound like much, but the overall effect is of a much more muscular vehicle. It's not that big a car though, moving through traffic, that commanding ride and seat height allows you to putter into little gaps where the X3's bigger brothers would have only got a wheel in. When traffic slows down and stops eventually, so does the X3's engine. With the first local introduction of BMW's Start-Stop function, the X3 cuts off the engine when the car is stopped and restarts it when you take your foot off the brake, all in the name of saving fuel and improving efficiency. It takes a while to get used to but isn't as intrusive as it might sound.
At this point now i should be going on about how i feel about the car, but to be honest, i couldn't put my finger on it. Yes there is that point and squirt engine, yes there are 3 modes to the suspension varying how stiff you want your ride to be and how fast you like your gearchanges, and yes it should all be pretty good. But i haven't really bonded with it yet, maybe that old ghost of my first SUV is still lingering inside me. It's good, but maybe just not to my taste. Yet...
With over 1000 kilometers of road to transverse ahead of me. There is no better way to do a road test, highways and by-ways combined, i expected the X3 to be a good car for the long journey, what i got instead, was an exceptional car.
We've gone through the appearances, so now we are after some substance, and substance doesn't come any better then that turbo-ed straight 6, first seen in the 335, there-after on almost every other BMW in the range. It is a gem of an engine, so flexible and versatile, oodles of torque when moving off it jackrabbits every other car at the stoplights. On the highway, the X3 pulls to unmentionable speeds with such uncanny ease you really do have to pay attention if you value your license. Right next to her bigger brothers, the X5 and X6, the little X3 with less weight to pull around easily takes the lead whenever the road clears up and goes through long sweepers without their inherent mass. All this in the default comfort setting too. I did try out the other, more "sporty" setups, but to be honest, there really is no need to. It does everything so well in "comfort" mode that you don't really need the suspension to be any stiffer, even the gearchanges, when you get used to the throttle modulation, doesn't really need a change of mapping. Maybe unless you are on a track, but otherwise, leave it in comfort and just enjoy the ride.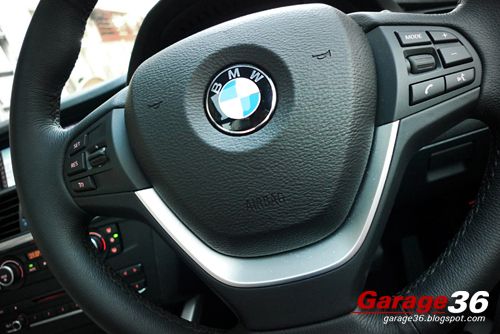 Off the highways, the X3 pounds the uneven pavement and pitted roads into submission. The X3 laughs at all road imperfections and only on the worst road conditions do you really feel anything. (Unless you are in "Sport" mode, where yes, you can feel little pebbles on the road.) Sitting inside, the X3 gives a commanding view of the road ahead and it is quite a nice place to be when stuck in traffic. Generous lashings of leather, lots of buttons to fiddle with, and a pretty good sound system.
With over 600 kilometers each way, as i approached the finishing leg of my return, i realised that the cars we get attached to, are probably the cars we share the most time with, the cars we share the most experiences in. As over time, you get to discover that little bit more about a car, almost like getting to know someone better over the course of time. And as my short, long drive drew to a close, i've grown really fond of the X3. The ghost of my first SUV? I left it at the door over 600 kilometers away.