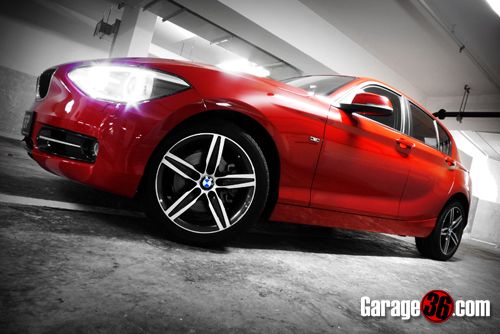 While the previous 1 Series hatch was (wrongly) criticized for its dumpy looks and sub-standard interior, I was one of the those on the other side of the fence. I thought the 1s looked good, especially when fitted with M-sport bits and bigger wheels. It looked nice and squat, and when blessed with a 3 litre straight-6, drove like magic. The small footprint allowing you to pivot the car around you and dart into small gaps of traffic, while the beefy 3 litre oozes out 265 smooth horses. It even looked like a shooting brake, automatically giving it some cool kudos points.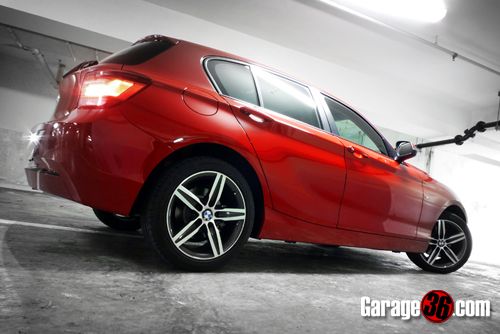 But great drivability and the ability to put a smile on keen drivers alone will not sell cars, so BMW has redesigned the latest F20 1 Series to be more cushy and more eco, but how does it drive? The key word I keep coming up with when behind the wheel of the latest 1 Series is efficient, more on that later.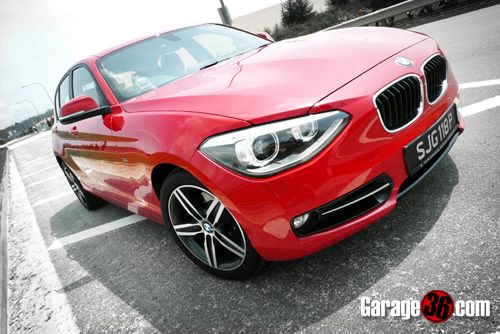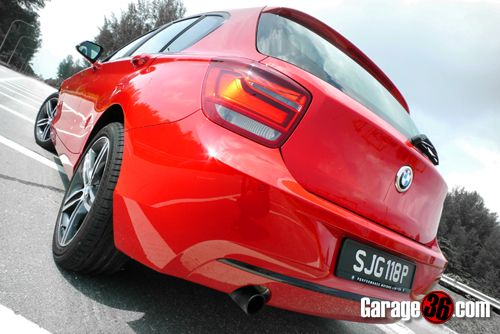 First up, the looks. I know it sounds strange but when I first saw pictures of the new F20 on the interwebs, I couldn't help but think of that red angrybird. Those lights, angled towards the grill look rather like a pair of angry eyes, and the bigger kidneys protruding out like a beak. It didn't help that it's in red too. Overall the new car looks and is slightly bigger then the earlier 1. Those headlights make it look angrier too, a trend which most car makers are now going for. All new cars nowadays look really cross and the new 1 is no exception. I think color plays a big part in how the F20 looks. I spied a white one in the showroom and it looked doubly better. In this particular shade of red, a lot the surfacing and cut lines appear to be lost and that is a waste because when you do see those surfaced edges, it gives the car a much better feel. More dynamic in a sense, the way the lower sill raises up towards the kink of the rear windows, and the tapering shoulder line which run into the rear lights. It looks tidy no doubt, but somehow a little blobby in red.
Those bi-colored wheels don't help either. Ditch those wheels and slap on some aftermarkets. It will look all the better for it.
I even made the photoshop above just to prove my point.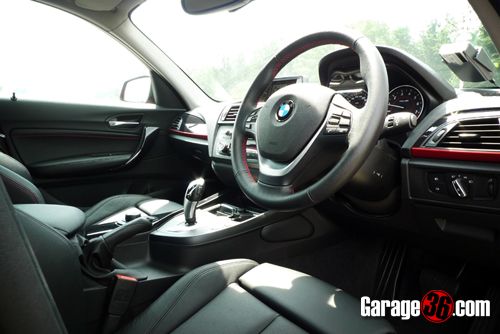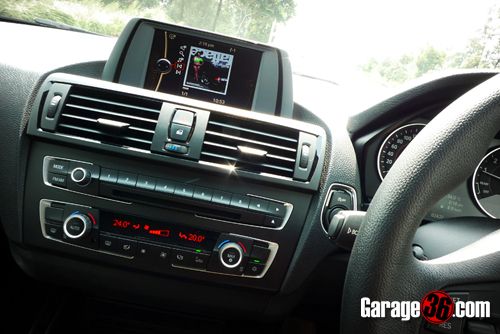 Step inside the car though and all negative sentiments about the angrybird exterior are gone. The quality of the redesigned interior is a big improvement over the older car and offer a much more up market feel. The way everything just comes together, build quality, materials, the way all sub controls are again, angled towards the driver. All feel and look very good. Small complaints I have here is the rim of the steering is a tad hard, and that although it comes with iDrive there is no sat-nav which is strange. Road noise does seep into the cabin at times and you are reminded that you are in BMW's entry level model range. But overall, it is a nice place to be.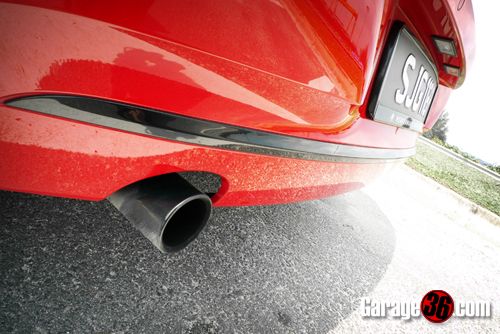 The biggest news for this car though has to be the engine, gone are the dawdling naturally aspirated 4 Cylinders. The new 1s now come with turbo power, even on the base 116i. Coming in at a 1600 cubics, the base 116i now puts out 136 horses, up from 120. But the bigger jump is in torque figures, 220Nm in the new car, up from 160. Meaning easier overtakes and quicker getaways from the lights. What is interesting though, is a similar engine this 118i form I am testing puts out 170 horses and 250Nm's of juice. Make of this what you will but it gets the car going from rest to 100km/h in an officially recorded 7.5 seconds. That's pretty good when you are behind the wheel and have to keep reminding yourself the engine is a 1.6. 250Nm's of torque on tap from 1500rpms through to 4500rpms is also readily sufficient to propel the car away from most traffic on our expressways.
How does the car drive? Back to the word "efficient". Not only in the way it sips petrol, thanks in part to BMW's Start Stop technology which cuts off the engine when you are stationary and keep your foot on the brake and restarts if when pressure lifts off the brake pedal. It sounds more intrusive then it actually is though, because it reality, it actually isn't. A small shudder upon the reigniting engine is a worthwhile trade for extra pocket money from petrol savings.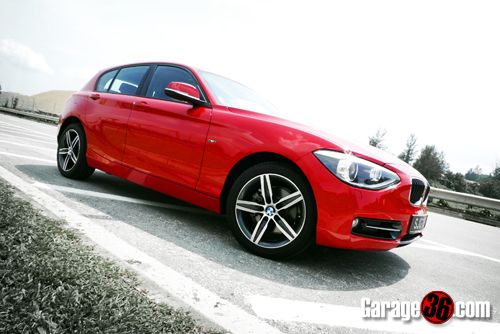 Another reason for this efficiency is something BMW calls Drive Performance Control. In short, you have 4 modes to choose how you want to commute. Comfort is the default setting, Sport for when you feel sporty, Sport+ when you feel extra sporty and ECO PRO, which is supposed to help drivers save fuel by limiting the use of the air-conditioning and dulling the throttle response. It even has a little gauge below your rev counter "encouraging" more eco-minded driving. In short, ECO PRO mode is for people who hate driving. I like my cars sporty with a touch of + once in a while, but let me tell you something, even with ECO PRO mode banned, the car still returned very good mileage. This I suspect due to that little charged 1.6 up front delivering a good dollop of returns for little outlay. Efficient is also how I would describe how the engine performs, It is not as soulful as a straight 6 and it gets a little raspy when you are pushing it. Power delivery is smooth but keep it in the mid range, pushing it up towards the red line yields less rewards. The F20 feels nicely planted on the road and is a very well behaved car with predictable but good handling, if a little bit harsh on the motorway.
Personally, and this is really my own personal view. The engine sometimes feels a little bit agricultural about how it does its job, this part is quite difficult to explain, but it just does. A prolonged period of driving might change my perceptions, but this is how I feel at the end of my short fling.
The new 1 Series, drives and handles well and does it's bit to save you petrol. And with that fantastic interior, a great entry into the World of BMW motoring. The engine just needs a bit more pizzazz.