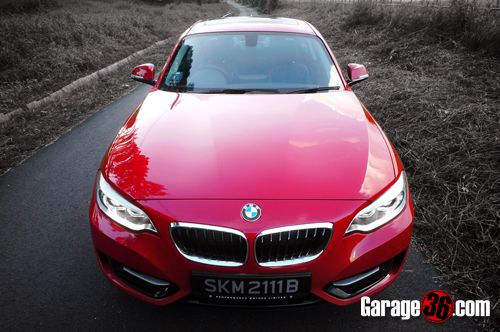 If someone was to ask you to name a fun, compact, front-engined, rear-wheel drive sports car that's currently on sale now, you'd hardly be faulted if you called out the Toyobaru twins. I'm speaking of course about the jointly developed Toyota 86 and it's twin, the Subaru BRZ. Now however, a new contender has just landed, hailing all the way from Germany, the BMW 220i. Initially, it might not seem right putting the little Bavarian coupe into the fray but while there might be differences in execution, they do share similarities in concept. All these cars have been tasked with putting joy back into motoring and to get youngsters interested in cars again.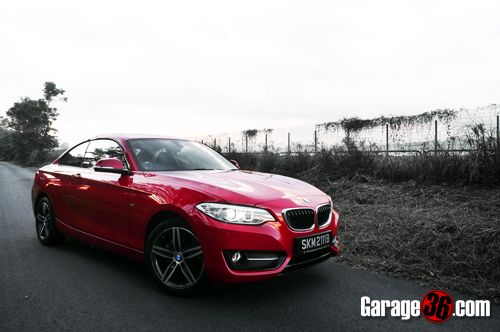 The comparisons don't just end there as price-wise, while the BMW might command a premium, the Toyota 86 is not too far away. About S$23,000 more will see you behind the wheel of the 220i. This premium does not just pay for that badge either, you also get (amongst many other features) a better interior, a better sound system, iDrive with navigation, powered leather sport seats with electrically adjustable side bolsters (so comfortable), sunroof, rear air-conditioning for the extra rear seat space you have over the 86 and a Turbocharger linked to the wonderful ZF 8-speed auto.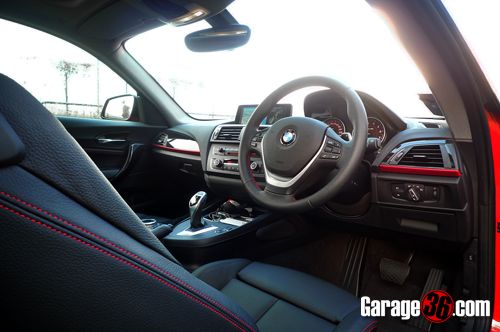 This little Turbo has the 2-litre 4-cylindered engine prepping out a modest 185 horses with a not too shabby 270Nm of torque (over the 86's 200bhp/205Nm) for your right foot to control and with the hammer down, 100km/h comes up from rest in a respectable 7 seconds flat. 86 does it in 7.6(m) and 8.2s(a). Purists might now scoff at the BMW's automatic transmission but if you are really keen, Performance motors might indent a manual for you if you asked really nicely.
What the 86 does have over the BMW, is a limited slip, more aftermarket support and a swoopier body which tips the scales 87kg less. But otherwise, it looks like the BMW makes a pretty good value for money proposition over the Toyobaru twins.
With the 3-Series coupe striking out on its own at a standalone model, so has the little brother of the family. The 1-Series coupe of the previous generation has come and gone and in its place is the 2-Series. There have been voices whispering amidst the BMW fraternity about how much the 4-Series has grown over previous generations and they have a point. The 3-Series (and now, 4-Series) cars have always struck a fine balance between comfort and sportiness and having matured with their (now older) fan base over the years, new comers to the marque now crave for something a little more exciting, a little more edgy, a little more of what made the earlier 3-Series cars so much fun to drive. A new segment of drivers who don't mind a slight tradeoff in refinement for some extra pizzazz. This is what BMW has created with their new 2-Series range of cars.
Visually, there were some complaints about the previously model looking slightly stumpy but looks are subjective and i actually liked the previous car a lot. For the new car, BMW has smoothed out most of the lines and given the 2-Series a broader body with a shorter roof line. It does look more modern and in tune with current BMW design language. Just lose those hideous stock 17 inch wheels and opt for at least 18s.
The 220i might be the smaller, less powerful sibling in the range, but as noted earlier, they didn't skimp on trim. BMW has even gone a step further, tweaking and tuning the suspension settings for each specific model in the 2-Series range. You can tell the engineers had fun with developing the car and it shows the moment you take it out for an "enthusiastic" spin. There is a real eagerness to they way it handles and coupled to it's relatively compact dimensions, you have in your hands a very fun and 'joyful' machine indeed. The 2-litre charged power plant might not have the power to move mountains but down small tight roads with slow bends thrown at you, there is more than enough to have fun without getting into too much trouble. The steering which might feel a little lifeless on the motorways starts to give more information back at you and loads up nicely into turns. Turn-in is direct and gives the 220i a lovely agility only smaller cars can. Putting the power down early through bends also allows you to wiggle the rear end just a bit for an extra sliver of excitement. Those trade-offs i mentioned earlier? Road noise over rough surfaces does intrude into the cabin and generally the ride though still comfortable, will not be as refined as the bigger cars of the family.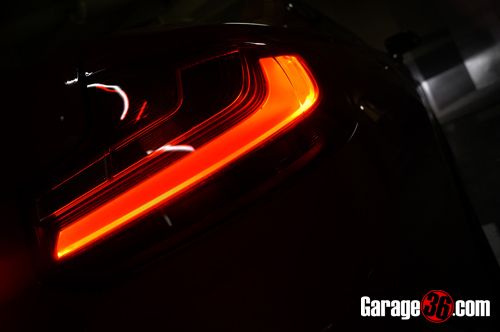 Overall, the 2 really is a bundle of fun in a small and good looking package. While the bigger 4-Series is an excellent evolution of the 3-Series Coupe over the years, the 2-Series on the other hand, is what a BMW from the past would be if it was re-imagined for today. It might have arrived later than it's rivals but when you have something good to show, it's never too late.