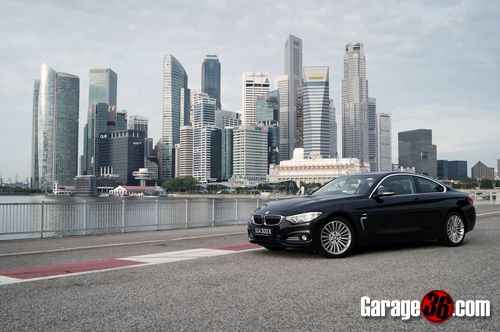 Having driven and loved the range topping
435i earlier
, it's not difficult to point out what the "entry-level" 4 series lacks over its more well endowed sibling. The brilliant heads-up display, parking cameras and a nice squishy leather steering wheel top the list of equipment that are sadly missed in the 420i. Notwithstanding these options, the 420i retains the basic essentials of what made the 435i such a wonderful car. A fantastically balanced chassis and the beautiful metalwork that envelopes it.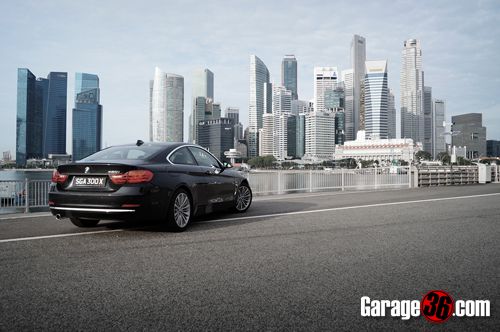 Our test car in "Luxury" trim levels feature carefully placed slivers of chrome and multi-spoke wheels which, when combined in a lovely shade of black, does give it a more discreet appearance. A small bugbear would be the door sill trims with "BMW Luxury" etched into the aluminum. Luxury really shouldn't require labels.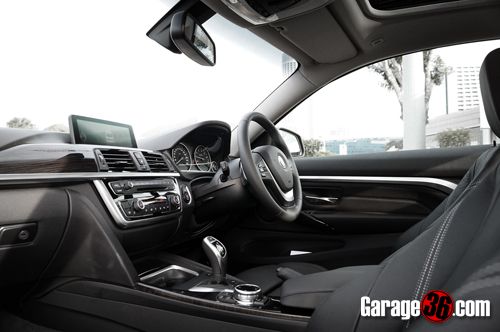 The interior of the "Luxury" 420i also trades flamboyance for a more restrained yet classy atmosphere. With dark woods and aluminum trim surrounds in place of brushed metals amid swaths of reds and blacks. What remains the same regardless of trim levels are the supportive and very comfortable leather seats and the classic driver-centric layout of all primary and secondary instrumentation and controls.
Rear leg room and boot space remain above average for a coupe in its class with the extended roof line of the 4-Series giving those few extra inches of legroom for 2 extra passengers and their luggage.
A minor disclosure here, a week prior to driving the 420i, i was
blitzing around in the almost 600 horsepower M5
. In that respect, getting into the 184bhp '4 might seem a little anemic in comparison on paper but in real life conditions. The little charged 4-banger doesn't at all disappoint. What the 420i lacks in power and grunt , it makes up for in allowing you to explore its playful chassis dynamics without getting into too much trouble.
Let me try to explain a little, yes the M5 packs a huge punch and pretty much decimates everything else on the road sans supercar. But because of that huge wallop of power and torque that comes on just above idle, you tend to tip toe your inputs and drive around with all your senses heightened and on the edge if you ever succumb to the M's constant temptations to drop the hammer. It is an experience which does tend to leave your mouth dry, but an invigorating experience nonetheless.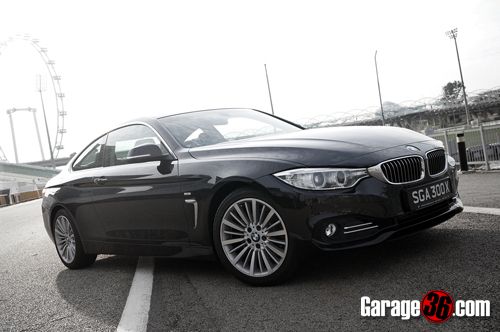 The BMW 420i doesn't do ANY of that, progress though smooth, is at best brisk and there's no worry about flying off expressways when the pedal meets the metal. But therein lies the joy. Because the engine is less powerful, you are able to extract more out of it more of the time, you are able to stomp on the throttle as much as you wish without fear, without restraint. 270Nm's might not be much after an M5, but with less weight than a 435i, it is ample enough to cut through most traffic situations and allows for a rhythmic flow through roads with continuous bends. Go ahead, stick it into Sport+ everyday. It is a car you can enjoy without getting into too much trouble and i really like it because of that. The steering could do with more weight and feel as it felt overly light for me even in "sport+".
When you've had your fun, or on days you need to ferry people other than yourself, the 4 allows you to just lie-low and cruise. Suspension characteristics might be a tad stiff at times but most uneven surfaces are dampened out before reaching your bum. Such is the wonderful balance achieved by BMW.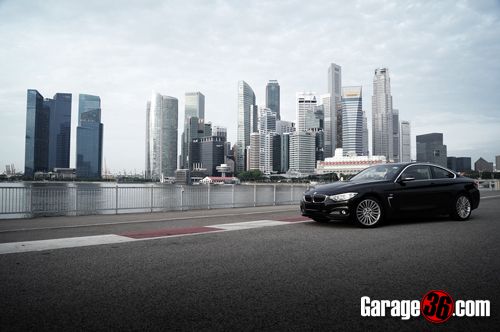 Unfortunately for the 420i there might be some in-fighting within the BMW stable as sitting in the wings at a similar price point, we have the M235i. Already garnering rave reviews Worldwide, this little pocket rocket coupe looks set to be a future cult classic. Or if you are willing to shell out a little over $20,000 more, you can get the 428i which i suspect to be
the
4-series of choice. Personally i wish BMW would revive the "is" nameplate and release a 420is. Strip out the leather seats, remove bits of sound deadening, a hotter ecu tune and the piece de resistance, a manual shifter and a slippy diff.