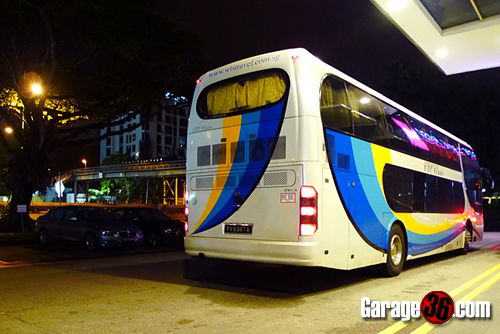 Over the weekend, while most people in sunny Singapore were happily sound asleep on a early Sunday morning. A small group of drivers, after deciding that sleeping in was passe, hopped onto a bus and headed off to Pasir Gudang circuit. Home-base to what used to be called The BMW Driver's Training School, now re-branded as The BMW Driving Experience. The courses are tiered for progressive learning, starting with the Advanced level and culminating in an Intensive level. For today, i was headed back to school at the advanced level.
The name may be new but the training that goes on is as relevant now as it was many years ago back in year 2000 when Performance Motors, with the aim of educating safer drivers for the roads, started this training programme. I should know, as i have attended the same programme almost 6 years ago, back in 2006. As i realized later on, in this short span of time, small little bad habits seemed to have made their way back into the way i drive. More on that later.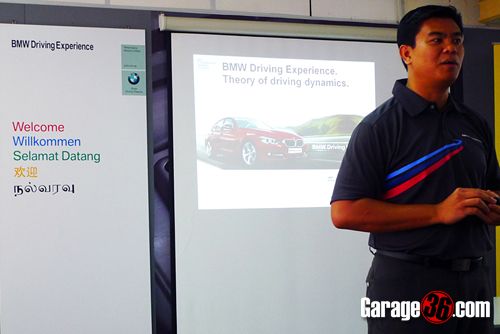 With a full day of activities lined up ahead of us (although, it didn't look like much on paper), the instructors wasted no time during the briefing in the morning. Subjects covered during the morning theory lessons included the all important hows and whys of our seating position, braking reaction times, speeds and distances, as well as the forces acting on our vehicles as we brake, accelerate and approach corners. It might sound a little dry right now, but all these will actually be part of what you will experience later on in the day.
Interestingly, we had a film crew with us for the day.
After being split into 3 groups of 3 cars each, we headed off for some warmup exercises through the slaloms at the amazing speed of...... (drumroll)...... 20km/h(tops!).
Doesn't sound very exciting right? But with the instructors outside eyeballing our steering techniques, it didn't take long for some drivers to start rolling over the poor innocent cones. Here was also where i found out my bad steering habits had begun to creep in again and correcting these habits again, took some mental conditioning. Lucky for the cones though, they stayed safe throughout my slow but steady progress.
The all important 9-3 position. Made even more accurate with 2 watches i guess.
Warming up exercises done, off to the main events. Throughout the day, the syllabuses taught would include, emergency braking, emergency lane changing with and without the brakes, as well as punching the cars into under and over-steer modes.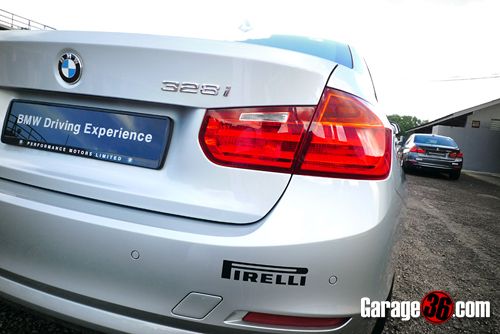 With the latest arrival of the new F30 3 series on our local roads, the E90s previously used have now been updated with an entire fleet of twin-scrolled force-fed 328i's, partnered with some almost new Pirelli running shoes.
I say "almost" because there was a previous training session just a day before mine which had these rubbers absolutely brand new, so ours were a day-ish-older.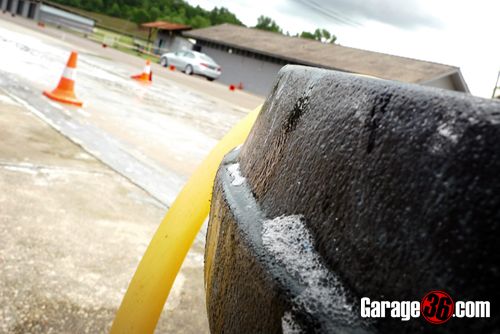 The surface was given a liberal coating of soapy water at some points in an effort to preserve the tires too.
I was slotted into Group B, which i think is probably the best group to be in. Why? Because we would end the training session with some fun over-steery action! But to start off, we headed to the emergency braking station where most drivers will be quick to realize that what a full 100% application of the stopping pedal meant. Exercises here will teach drivers about speed in relation to stopping distances as well as a short brake test where with a cone placed at a set point, we'd have to gauge where was best to engage full brake pressure to stop as close as possible to the cone. I pretty much found the magic braking point but i'm not going to share it. You'd have to go and find out on your own.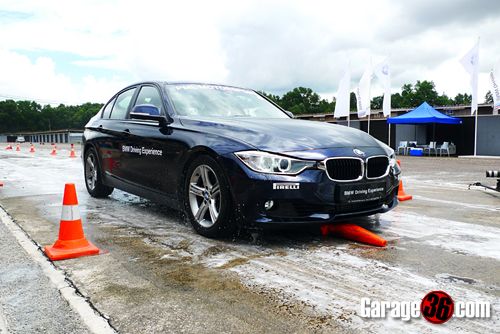 Yes, plenty of cones met their demise here.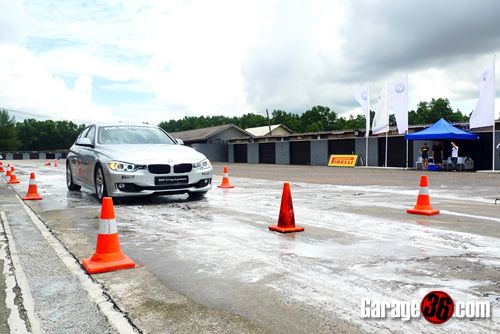 Stopping too early was a no-no as well.
Perfection.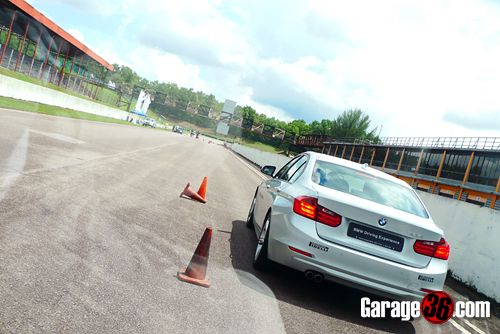 Next up, the emergency lane changes, easier said then done, but with good practice and conditioning, you'd start to get the hang of it pretty quick.
The exercises here give drivers a sense of how even small increases in speed will cause the car to react differently in emergency situations.
It might be just a 10km/h increase, but when the unexpected comes up, that small increment in speed might be the difference in a successful or unsuccessful avoidance maneuver.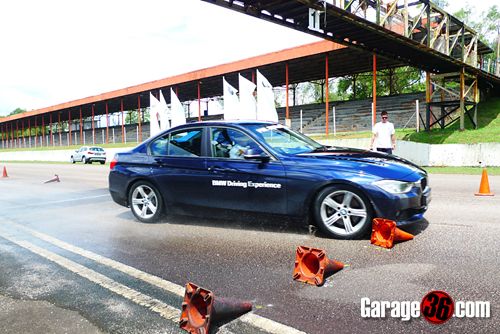 If the flattened cones could speak, they'd back me up on that last statement.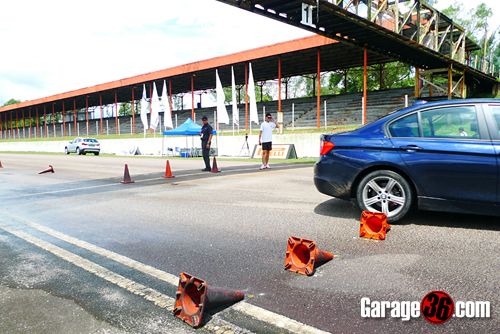 Again, practise makes perfect.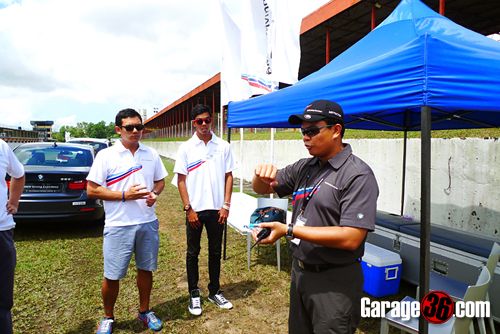 The instructors taught us how to boogie when we were waiting.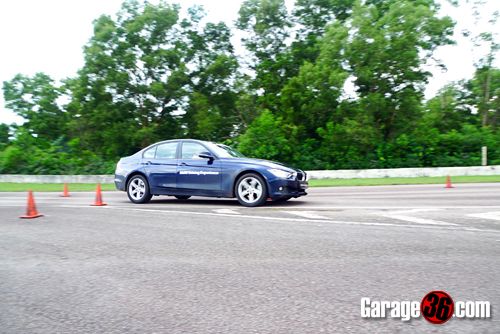 These emergency lane changes also gave the drivers a chance to feel how the new BMWs react to such sudden and almost violent inputs. But needless to say the F30s with their awesome balance, performed perfectly.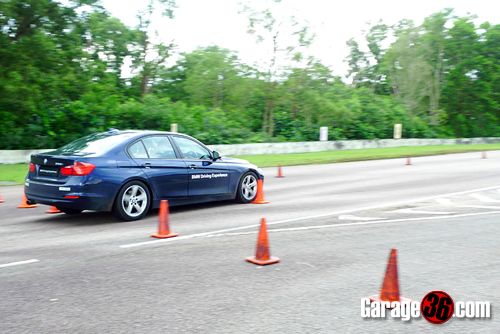 Well... Almost perfectly, as the above images show, the most important bit is still the person sitting behind the wheel.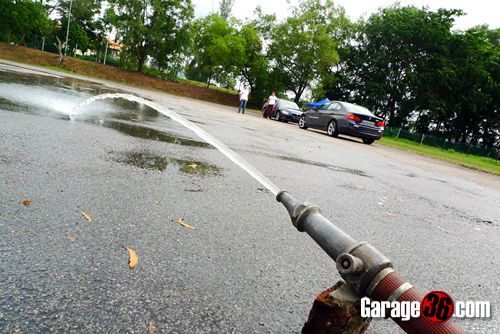 Heading towards the skidpan was a welcome sight to see. With a nice big open space and plenty of water to soak up the tarmac, it just looked like a playground to me!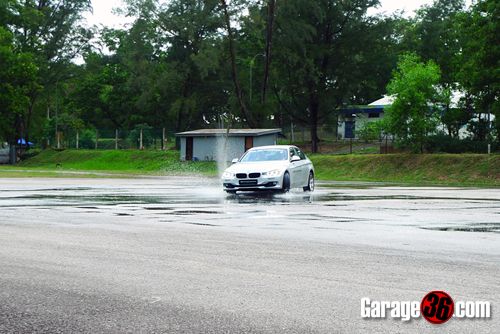 In the understeer and oversteer stations, the exercises here demonstrates what happens when the car loses grip up front and down back. With the traction systems turned off, we learnt how to induce and recover from situations when the cars were not behaving as they should. As well as learning how effective the computer systems are in helping us stay on the road.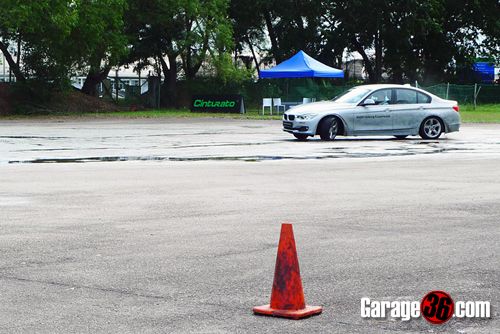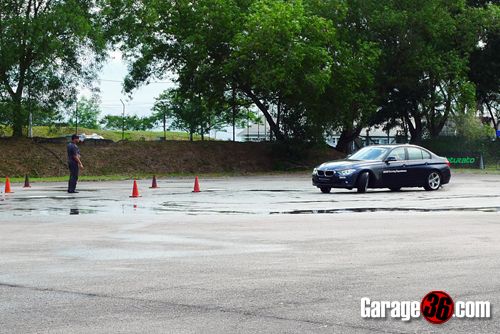 My favourite part of the lesson? Oversteer baby! I know i shouldn't but instead of listening to the instructor and coming off the over with a quick release of the throttle and corrective steering, i tried my best to just ease off the throttle and maintain the slide as long as i could. It was just tooooo much fun and there aren't many chances like this, so... dori dori mode on!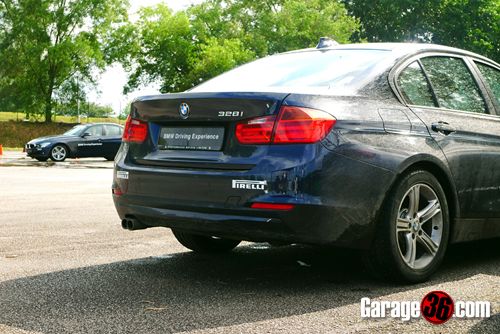 As you can see, the day's events took their toil on the new F30's shiny new bodywork.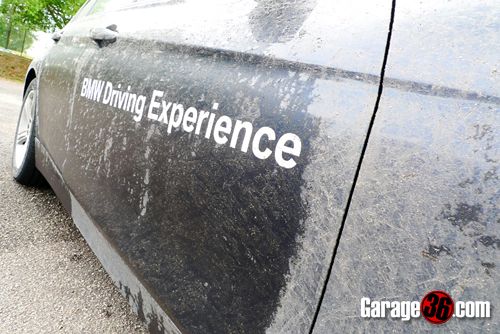 Try doing this to your own car.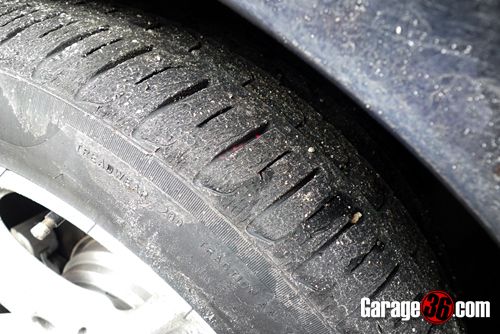 The tyres after a full day of abuse.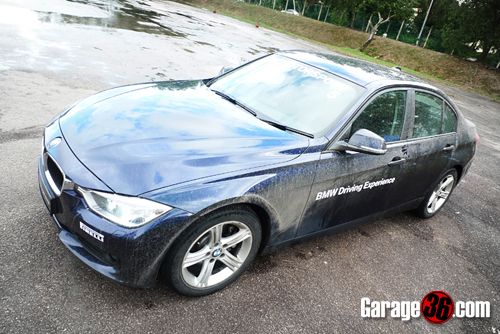 F30 328i battle ready.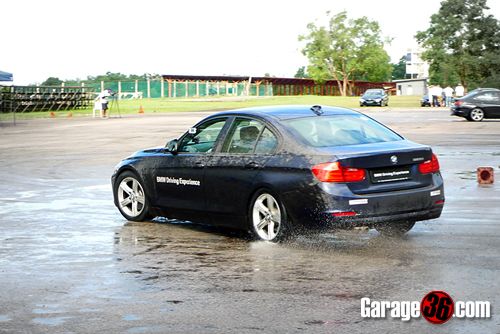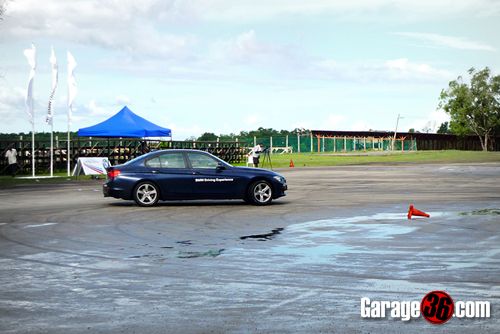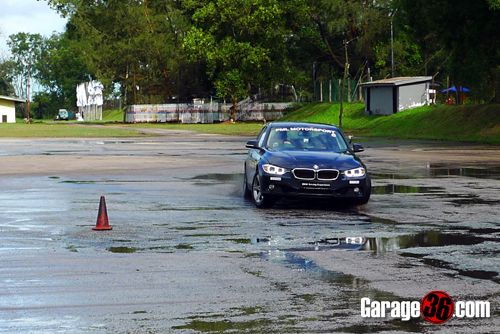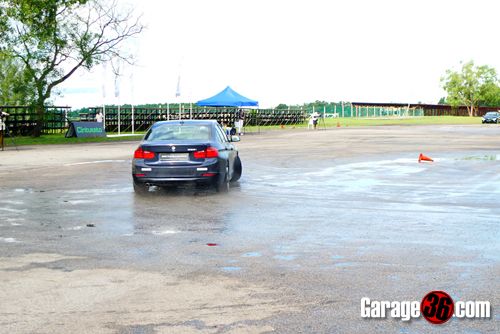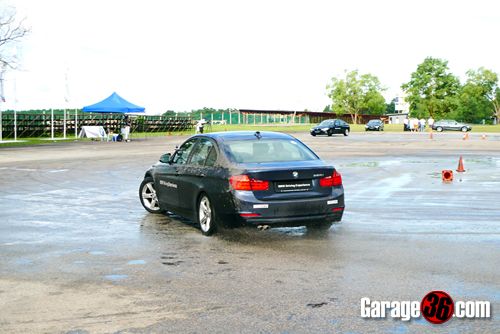 After the last training session all participants were given a joyride in the cars for a preview of the next stage of driver training, the intensive level, where reverse flicks and full circle driftings would be taught properly and not just incurred by over-zealous students who have watched too many tofu delivery videos. We were also all given another taxi ride around the track with the instructors bringing us round with some more 'spirited' driving, this ensured lots of fun but at the same time, the fun was rather short lived as we made our way back into the pits in record time.
At the end of the day, we were pitted against each other in a series of timed slalom runs. Each driver will have 2 chances at setting their best run. Knock a cone down and 2 seconds will be added to the total time, stop outside the designated stopping zone and 10 seconds will be added. These penalties of course presented some added pressure to everyone here. Going fast alone will not help you.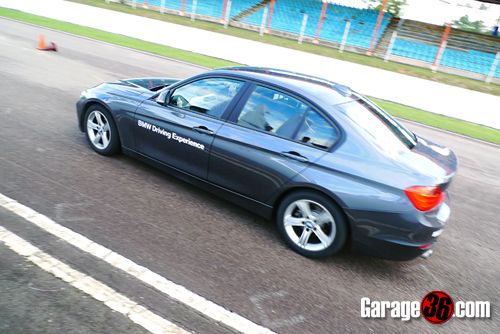 Flashback to my earlier training session in 2006, where i tried going balls out and failed, i decided to play it safe here and just be smooth. With hours of training under the guidance of Playstation 3 and Gran Turismo 5, i managed to set my first timed run within the 24 second range but sadly, i ran a cone down which added 2 seconds to the run.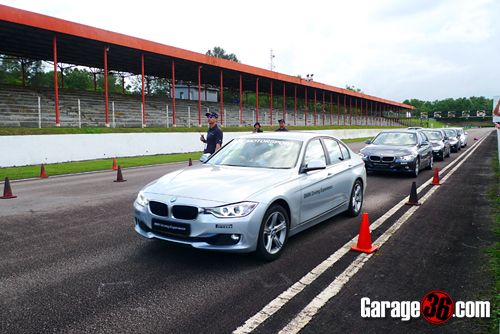 2nd time round, happily i nailed in again in the 24 second range without running anything down. Gotta thank Kaz Yamauchi for that. A good enough time to bring home the fastest timed run and keep the BMW-SG flag flying high!
So, you might ask what is the point of this drivers training and if there is any relevance to driving on our local roads. Well, the short answer is yes, it definitely is relevant, although all these exercises take place in the safe confines of a track, the lessons you learn here will stay with you every time you get behind the wheel. The emergency techniques taught and conditioned into you with repetition might one day save your car and your life should such situations ever unfold when you are driving on the streets. Personally i have had a few occasions where these emergency techniques had come into play to help me avoid some nasty situations.
It might have been an awesome day of fun, but the takeout of the BMW Driving Experience will always be the same, to develop safer and confident drivers, able to react and handle any situation on the road. If you ever have the chance to participate in the BMW Driving Experience, i'd always say, go for it. You don't just go home with a t-shirt, a certificate and a smile, You go home a better driver with skills and an experience to last a longtime to come. To participate, the Advanced level is open to anyone aged 21 years and above with a valid driver's license for more than 3 years. Participants who have successfully completed the Advanced level are eligible to progress to the Intensive level. BMW owners are eligible for preferential rates and corporate packages are also available. For further information on participation, please contact the BMW Driving Experience hotline at, +65 6223 1090 or email: info@pmldrivingexperience.com.sg